---
I have an affiliate relationship with
Bookshop.org
and
Malaprop's Bookstore
in beautiful Asheville, NC. I will earn a small commission at no additional cost to you if you purchase merchandise through links on my site. Read more on my
affiliate page
.
---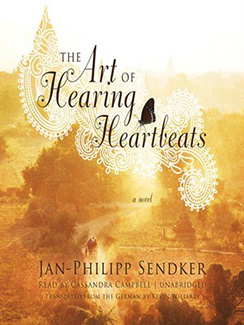 Tin Win is a successful lawyer who simply walks out of his life one day. His children have both graduated from college so he apparently has decided that he's a free man. There's a search but it quickly comes to a dead end in Bangkok. His daughter Julia decides several years later to go looking for him in Burma, his native country, after finding a love letter he had written to a woman named Mi Mi. She quickly stumbles onto a man named U Ba who is able to tell her father's story from his start as an abandoned peasant boy to the time he left Burma.
Eh. I enjoyed this. And then I got to the end. It felt way too Nicholas Sparks-y to me. Nothing against him, that's just not my kind of book. At all.
The book and translation are beautifully written and the audio version is fabulous. Cassandra Campbell is an excellent narrator. Burma is not a country that I've read much about but it was fascinating. The descriptions of Tin Win finding his way through the world as child, relying mostly on his sensitive hearing, were amazing. The story of his first love was heart-wrenching.
But then I don't understand what happens. We are told how he ends up in America but I can't say that I truly get it. I can't lay out my questions without giving away spoilers, so I'll just say–why? I think it was a cultural thing. But it felt like a contrivance to set the story on the teary Nicholas Sparks path.
So I obviously don't think this is for everyone but if you like reading love stories with your box of tissues nearby, pick this one up.
Read an excerpt.
Find author Jan-Philipp Sendker on his website and Facebook.
Buy The Art of Hearing Heartbeats at
I have an affiliate relationship with Malaprop's, my local independent bookstore located in beautiful downtown Asheville, NC; and Better World Books. I will receive a small commission at no cost to you if you purchase books through links on my site. My opinions are completely my own.