---
I have an affiliate relationship with
Bookshop.org
and
Malaprop's Bookstore
in beautiful Asheville, NC. I will earn a small commission at no additional cost to you if you purchase merchandise through links on my site. Read more on my
affiliate page
.
---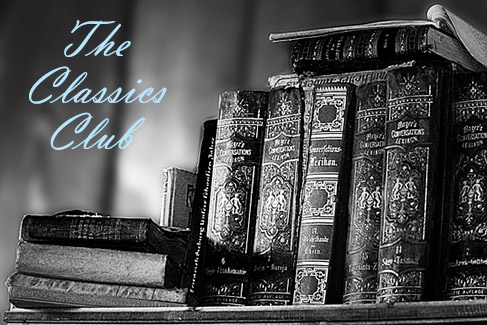 I've decided to sign up for The Classics Club. I disliked almost every classic I had to read in school but I usually enjoy reading them when I choose them for myself. I'm just contrary that way, I guess. I do tend to overlook classics when I'm choosing my next book though, so I'm hoping this gives me the motivation I need to read more.
I started choosing my list way back in October after seeing Mareli's post at Elza Reads. Then I forgot about it for a while. Oops. Deb's announcement at Readerbuzz that she just finished her second list and started her third reminded me that I still need to sign up.
My goal is to read these 50 classics by April 15, 2026. I haven't done much homework on these titles so if something turns out to be 1000 pages, impossible to find, definitely not my cup of tea, or a bit too recently published to be a "classic," I'll switch it out for another title. I made a conscious effort to include books written by women, translated books, and books from other cultures. My list could still be more diverse but I'm pretty happy with the mix I've got here. You can find more details and sign up for yourself at The Classics Club site.
Let me know what you think of my choices! Where should I start?
Progress: 19/50
My List:
Achebe, Chinua: Things Fall Apart–I remember that my sister had to read this in school (she was four years behind me) but I never did.
Alcott, Louisa May: Little Women–I've never managed to finish this book and I've started it several times! I get to a sad part and put it aside. I will conquer it! One day. I love Little Men though and I've re-read it countless times.
Allende, Isabel: The House of the Spirits–I'm adding this one last, as I realize that I've chosen a book from every inhabited continent except South America. This will fill the gap.
Atwood, Margaret: The Handmaid's Tale–This book is such a big deal at the moment because of the show. I can't believe I haven't read it.
Brontë, Anne: The Tenant of Wildfell Hall–I've read books by the other Brontës (love Jane Eyre, really dislike Wuthering Heights) so I need to complete the sisterly trifecta.
Cather, Willa: O Pioneers!–I loved My Ántonia so I'd like to read more of Cather's work.
Chaucer, Geoffrey: The Canterbury Tales–This feels pretty foundational for English literature. We read a few bits of it in high school but I'd like to know more.
Cooper, James Fenimore: The Last of the Mohicans–The movie starring Daniel Day-Lewis was filmed around my hometown so I'd like to read the book.
de Cervantes, Miguel: Don Quixote–My father-in-law is Cuban and my husband is bilingual. A Spanish-language classic feels like a must (I'll be reading an English translation).
Defoe, Daniel: Robinson Crusoe–This just seems like an adventure book that everyone should read.
Dickens, Charles: The Old Curiosity Shop–I struggle a bit with Dickens but I read somewhere that American readers met ships at the docks when this book was serialized, anxious to find out what happened to Little Nell. A book that can create that kind of stir is something I want to check out.
Douglass, Frederick: A Narrative of the Life of Frederick Douglass–I believe every American should read a book written by a slave. I think this one is on my old nook.
Dumas, Alexandre: The Three Musketeers–I own The Count of Monte Cristo but it's in storage at the moment. I'll start with something smaller and less intimidating.
Ellison, Ralph: Invisible Man–I don't know much about this but I included it for diversity.
Faulkner, William: As I Lay Dying–I haven't read much Faulkner at all yet I host the Southern Literature Challenge. That feels like a huge gap in my knowledge.
Gaskell, Elizabeth: Cranford–I read and liked North and South by Gaskell so I decided to read more of her work.
Grahame, Kenneth: The Wind in the Willows–I can't believe I've never read this children's classic.
Hansberry, Lorraine: A Raisin in the Sun–I'm familiar with this title but that's all I know about it. I included it for the sake of diversity.
Liliuokalani: Hawaii's Story by Hawaii's Queen–I love Hawaii and I've read James Michener's book, Hawaii. It seems better to read a version written by a native Hawaiian.
Lindsay, Joan: Picnic at Hanging Rock–This book has been on my TBR forever and I've hit most other continents; it's time to add something Australian.
Lowry, Lois: The Giver–I can't believe I never had to read this for school.
Macdonald: George: The Princess and the Goblin–A fantasy classic.
Malory, Sir Thomas: Le Morte d'Arthur–I've picked up bits and pieces of the Arthurian saga here and there but I don't care for T. H. White's The Once and Future King. This seems like the closest thing to source material that I'm going to find.
Milton, John: Paradise Lost–Epic poetry isn't really my thing but since I've read The Inferno, I should probably read Paradise Lost as well.
Momaday, N. Scott: House Made of Dawn–I wanted to include a classic by/about Native Americans and this was the first one that came up in a Google search. It won the 1969 Pulitzer prize and I've had good luck with those winners in the past.
Morrison, Toni: The Bluest Eye–So many people love Morrison's work but I didn't care for Sula when I had to read it in college. I think it's time to give her a try on my own time.
Murakami, Haruki: Norwegian Wood–Again, so many people love Murakami but I didn't care for The Wind-Up Bird Chronicle. I'm willing to try again.
Nesbit, E.: The Enchanted Castle–I wanted to mix in some children's titles.
O'Connor, Flannery: A Good Man is Hard to Find–Like Faulkner, I haven't read many of O'Connor's stories. That creates a glaring hole in my knowledge of Southern Lit.
O'Dell, Scott: Island of the Blue Dolphins–When I visited Mission Santa Barbara last year (pre-COVID), I saw a room sharing details about "The Lone Woman of San Nicolas Island," who is buried at the Mission. This book is loosely based on her life.
Orczy, Baroness: The Scarlet Pimpernel–The Pink Carnation series by Lauren Willig is one of my guilty pleasures. I think the concept of the series owes a bit to this classic so I'd like to read it.
Orwell, George: 1984–I haven't read any of Orwell's work, believe it or not. 1984 seems more to my liking than Animal Farm so that's the one I chose.
Ovid: Metamorphoses–I have a pretty good foundation in Greek and Roman mythology thanks to a couple of classes that focused almost exclusively on the old myths. I've read The Iliad, The Odyssey, and The Aeneid, some more than once. It feels like time to add this book to the mix.
Plath, Sylvia: The Bell Jar–I haven't read any of Plath's work and she feels like an important female author to read.
Radcliffe, Anne: The Mysteries of Udolpho–I've been curious about this book since reading Jane Austen's Northanger Abbey. (The main character reads it, which sets the stage for the whole plot.)
Rostand, Edmond: Cyrano de Bergerac–References to Cyrano surface often enough in pop culture that I'd like to read the actual book.
Sackville-West, Vita: All Passion Spent–Sackville-West feels like another important female author I should read.
Salinger, J.D.: The Catcher in the Rye–This is so controversial and I honestly know very little about it. I'd like to read it for myself and see what all the fuss is about.
Shakespeare, William: The Tempest–What's a classics list without Shakespeare? I never read this one in school.
Spark, Muriel: The Prime of Miss Jean Brodie–I really don't know anything about this book but I'm including it to have another female author.
Steinbeck, John: Cannery Row–I loathed Steinbeck's books in school but I've read a few of them in the past 10-15 years and really like them.
Valmiki Narayan, R. K.: The Ramayana–I had to read Beowulf and The Epic of Gilgamesh in high school (maybe excerpts?) so I thought I should include another culture's epic poetry. (Note: I realized that Valmiki's version of The Ramayana is incredibly long. I stumbled on a shortened version by R. K. Narayan and decided to read it instead. Since the shortened version was published in 1972, it still counts as a classic in its own right.)
Verne, Jules: Twenty Thousand Leagues Under the Sea–Honestly, this is on my old nook so I might as well read it.
Vonnegut, Kurt: Slaughterhouse-Five–I've never read any of Vonnegut's work.
Walpole, Horace: The Castle of Otranto–I have a soft spot for Gothic literature and this book is supposed to be the grandfather of the genre.
Watson, Winifred: Miss Pettigrew Lives for a Day–I've heard of this before but don't know much about it.
Waugh, Evelyn: Brideshead Revisited–Another classic that I don't know much about.
Wollstonecraft, Mary: A Vindication of the Rights of Woman–A feminist classic seems pretty important to me.
Woolf, Virginia: Mrs. Dalloway–I've never read any of Woolf's work.
Wright, Richard: Native Son–I'm realizing how little I know about diverse classics as I comment on this list. Another one that I know little about beyond the title.