---
I have an affiliate relationship with
Bookshop.org
and
Malaprop's Bookstore
in beautiful Asheville, NC. I will earn a small commission at no additional cost to you if you purchase merchandise through links on my site. Read more on my
affiliate page
.
---
I've struggled with whether to write this post. If you've been around long, I'm sure you've noticed I don't write many personal things. I'm a private person. The few I have written have been fun little stories, nothing serious at all. But I feel this needs to be shared, just in case it helps anyone.
My husband and I lost a very dear friend on May 3 when he took his own life. I don't feel that his story is mine to share, so I'll only say that he was an Iraq War veteran who had been through more personal tragedy in his lifetime than anyone should have to experience in a full 80+ span of years. All of us who knew him well knew that he needed help and begged him to go somewhere or talk to someone or just–anything. But he never would and here we are. He was one of the most deeply kind, generous, and just mischievous people I've ever had the pleasure of meeting and his absence is a loss not only to my husband and me and his other friends but to the world. Kindness feels like it's in short supply some days.
So I'm writing this to ask that if you need help, please seek it out. There's no shame in asking for it. Everyone needs assistance getting through something in their lives. If you know someone who needs help, please don't give up on them.
Here are a few resources:
National Suicide Prevention Lifeline
American Foundation for Suicide Prevention
CrisisChat, a service of Contact USA
National Alliance on Mental Illness
Here in NC, some employers participate in the confidential Employee Assistance Network. See if your employer offers anything similar.
Veterans can get help at Restore Warriors, a division of the Wounded Warrior Project, or find a facility of the Veteran's Health Administration.
I'm sure there are lots more, but that's a start.
In my friend's memory, I'm going to keep a link to this page and the National Suicide Prevention Lifeline on my sidebar for quick reference. I hope none of you ever find yourselves needing this kind of assistance, but if you do, please know that I care and help is out there.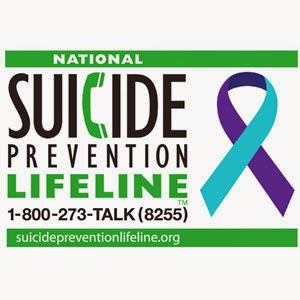 I have an affiliate relationship with Malaprop's, my local independent bookstore located in beautiful downtown Asheville, NC; and Better World Books. I will receive a small commission at no cost to you if you purchase books through links on my site. My opinions are completely my own.