---
I have an affiliate relationship with
Bookshop.org
and
Malaprop's Bookstore
in beautiful Asheville, NC. I will earn a small commission at no additional cost to you if you purchase merchandise through links on my site. Read more on my
affiliate page
.
---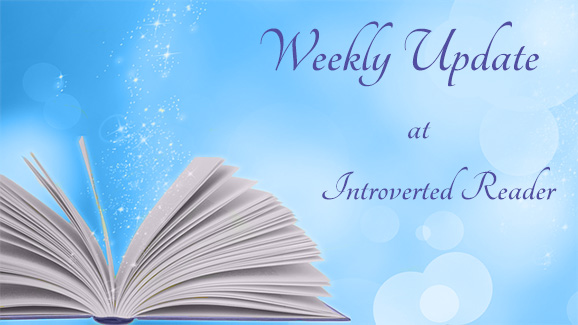 Welcome to my weekly update for June 15, 2015! It's Monday! What Are You Reading? is hosted by Sheila at Book Journey. She's taking a bit of personal leave so I'm also linking to Kimberly at Caffeinated Book Reviewer.
So, yeah. I've been busy with stuff and my blog has been more shamelessly neglected than usual. Sorry about that. But here's some of what's been going on with me, book- and blog-wise. My last Monday post was on–wince–April 12 (that's worse than I thought it was).
Posted
Suicide Prevention–My husband and I lost a very dear friend when he took his own life on May 3. I posted links to organizations that offer help and I'm keeping a permanent link at the top of my sidebar in my friend's memory. If you don't read anything else on my blog, please read this post. If you need help, please seek it out.
Review: Trigger Warning by Neil Gaiman–4 Stars
Review: Fragile Things by Neil Gaiman–4 Stars
A book blurb for Five Nights in Paris: After Dark in the City of Light by John Baxter. I was supposed to review this but I failed to download it from Edelweiss before the deadline so that didn't happen. It looks good so check it out!
Read since April 12
The Lost Symbol by Dan Brown–3 Stars–It's Dan Brown. You either enjoy his books or hate them. I enjoy them.
The Places in Between by Rory Stewart–3 Stars–The author took several months to hike across Afghanistan in 2003
Mississippi Jack by L. A. Meyer, read by Katherine Kellgren–4 Stars–Can't go wrong with the (mis)adventures of Jacky Faber, especially as read by this narrator!
Chasing Darkness by Danielle Girard–2.5 Stars–Good enough but I saw the "surprise" ending to this thriller coming from miles and miles away.
My Man Jeeves by P. G. Wodehouse, read by Simon Prebble–4 Stars–Funny! Loved Simon Prebble's narration.
Family Linen by Lee Smith–4 Stars–Southern family drama–This author can do no wrong in my book
Graveyard Shift by Angela Roquet–2.5 Stars–Urban-ish fantasy about the afterlife. I loved the concept, but wished the end result was cleaned up a bit more.
Beautiful Darkness by Fabien Vehlmann, Kerascoët, and Helga Dascher (Translator)–3 Stars–Gorgeous graphic novel but it was a bit too dark and fragmented for me.
Silver Borne by Patricia Briggs–4 Stars–Urban fantasy–Love the Mercy Thompson series!
100 Cupboards by N. D. Wilson, read by Russell Horton–4 Stars–Fun middle-grade fantasy
When the Moon is Low by Nadia Hashimi–4 Stars–I'll be reviewing this one in the next month or so. Modern story about a family fleeing Afghanistan
Blackbringer by Laini Taylor–4 Stars–Fairies saving the world. Right up my alley.
I Am One of You Forever by Fred Chappell–4 Stars–More Southern fiction. Fred Chappell cracks me up and then suddenly leaves me in contemplation.
The Chaperone by Laura Moriarty, read by Elizabeth McGovern–4 Stars–Historical fiction–I loved seeing how the conventional chaperone suddenly became…very…unconventional….
Ella Enchanted by Gail Carson Levine, read by Eden Riegel–4 Stars–I've never seen this movie but I loved this "girl power" twist on Cinderella.
My Ántonia by Willa Cather–4 Stars–This classic was very readable and enjoyable.
Currently Reading
The Last Time I Saw Paris by Lynn Sheene
Undaunted Courage: Meriwether Lewis, Thomas Jefferson, and the Opening of the American West by Stephen E. Ambrose (Actually, I had to return this to the library a week or so ago and I need to go check it back out again so I can finish it)
Up Next
I'll be looking for a new audiobook sometime this evening. Any suggestions?
What are you reading this week?
---