---
I have an affiliate relationship with
Bookshop.org
and
Malaprop's Bookstore
in beautiful Asheville, NC. I will earn a small commission at no additional cost to you if you purchase merchandise through links on my site. Read more on my
affiliate page
.
---
Blogging History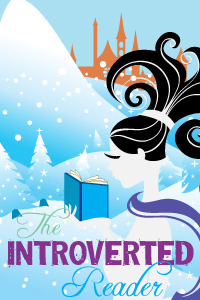 My name is Jennifer (Jen is fine) and I'm a reader, simple as that. Give me a good book with a strong story and I'm happy. I started my blog in November 2009 but I've been posting reviews on GoodReads since April 2007. I chose to start my blog because it looked like fun and I wanted to connect with other readers whom I might not find on GoodReads. I blogged as The Introverted Reader until 2016, then lost my domain through some miscommunication. Life was busy so I moved on but I eventually missed my blog. Life has changed a lot since 2016 and I suddenly find myself with time to spend on my neglected corner of the internet. If you want to know where I was for four years and a bit more about me right now, read my Back to Blogging post.
Authors/Publishers/Publicists:
Check out my Review Policy.
Click here to contact me.
The Personal Stuff:
I'm a 44-year-old woman from Asheville, NC but I'm currently traveling the United States with my husband, Luis. He's a traveling healthcare professional. We travel in our motorhome and spend about three months in a city before moving on. We obviously love to travel and we don't have kids or pets. I am shy (if the name of my blog wasn't a clue!), but once I get to know you, I actually talk a lot and love to make people laugh!
Genre Preferences and Dislikes:
What do I read? Really, just about anything at this point. My favorite genres are fantasy, historical fiction, Southern lit, general fiction, narrative non-fiction, some crime, and their young adult/middle grade counterparts. I listen to audiobooks and I own a Kindle Paperwhite.
What don't I read? There are exceptions to all of these, but I don't read much science fiction; romance, either bodice-rippers or sweet love stories; or non-narrative non-fiction. I am also seldom in the mood for chick lit although I don't really have anything against it. Because I don't have children, I rarely read picture books or chapter books.
Why So Many Books on My "Currently Reading" shelf?
I used to be a strictly one-book-at-a-time person; I was afraid I would get stories and characters mixed up. I've slowly shifted away from that but my books do have to be pretty different.
The book I really want to read. This is the one I would be reading if I were still only reading one book at a time. I read it whenever I can: at lunch, on the couch, in the car while my husband's pumping gas….
A non-fiction book just before bed. I accepted several non-fiction books for review in 2010 and I was surprised by how much I enjoyed them. I wanted to continue reading them, so this is where I fit them in. I have to admit that I don't feel like I have to worry too much about falling into the just-one-more-chapter trap when reading non-fiction in bed!
Audiobooks as I do chores, exercise, and drive around town.
Southern Literature:
I host the Southern Literature Challenge for a reason. I'll try not to get up on my soap box here. Briefly, I noticed that authors from the southeastern United States rarely tour outside the South. We are born storytellers here. I want to use my small voice to help Southern authors spread the word about their books outside the South. Give them a try; I guarantee you'll find something you like. (Incidentally, the same can be said about Midwestern authors, but that will have to be someone else's fight.)
Update for 2020: I recognize my privilege as a White woman raised in the South. I do try to read books by Black authors and others from diverse backgrounds. If they fit within the scope of this challenge, I have always included them in my Southern Lit reading list. Books by Black authors from the South will give a more complete view of our region's heritage, both the good and the bad. I encourage you to seek out books written by authors of all backgrounds. If you have recommendations for me, please reach out!
Find out More:
If you want to know more about me, I've been interviewed on a few other blogs.
Social Media Links:
GoodReads
Instagram
Facebook
Mastodon
Storygraph
LibraryThing
BookBub
Pinterest
Bloglovin'
Book Ratings:
I rate books on a scale from 1 to 5 stars, including ½ stars.




Book Sources:
Unless I state otherwise in my review, I either buy all my books, check them out from the library, or borrow them from my friends and family.
Copyright:
All content found on Introverted Reader is copyright 2009 – 2023 unless otherwise stated. All other pictures, interviews, and guest posts are the property of their respective authors and artists unless otherwise stated. If you would like to use something from my blog, please contact me via email.
Affiliate Links:
I have an affiliate relationship with Bookshop.org and Malaprop's Bookstore/Cafe in beautiful Asheville, NC. I will earn a small commission at no additional cost to you if you purchase merchandise through links on my site. Read more on my affiliate page. My opinions are entirely my own.