I promise I have not fallen off the face of the earth, although you wouldn't know it from the look of things around here.
My last post was on October 9, so let me think about what I've done since then…
That was my wedding anniversary (8 years!), so I was out that night. I had plans every night that week and then we drove to Atlanta to fly out to Jamaica for 6 days.
We were in Jamaica at just the perfect time. Our weather was gorgeous, mid-80s during the day, mid-70s at night, only a little bit of rain on our last day. All this hurricane stuff happened a few days after we left. We didn't even know there was anything in the forecast!
So this is how I spent most of those 6 days:
My idea of paradise!
Of course I came back to a lot of work, but I'm really liking my new job so I didn't mind it too much.
Then my boss and I had to fly out to Dallas for a conference this weekend. That's three weekends in a row of flying! I'm starting to get sick of it! Although it's been great for my reading. I was waaay behind on my GoodReads challenge but I've caught up a little.
I came home today and found a postcard that made me smile.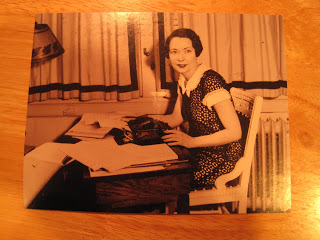 Margaret Mitchell at her desk
In case that's too small:
"Jen, An invitation to view Gone With the Wind at my home. Anytime. Any day. Always! Please bring attitude and love for Rhett. Pat"
Pat is my aunt and my reading buddy when I read Gone With the Wind last winter. We intend to watch the movie together but it just hasn't happened yet! Hopefully soon!
Unfortunately, all of this has meant that my blog has been shamefully neglected. It might take me a little while, but I hope to at least get some sporadic posts up this week and get to a better schedule in the next couple of weeks.
What have I missed while I've been gone?
I have an affiliate relationship with Malaprop's, my local independent bookstore located in beautiful downtown Asheville, NC; and Better World Books. I will receive a small commission at no cost to you if you purchase books through links on my site.