---
I have an affiliate relationship with
Bookshop.org
and
Malaprop's Bookstore
in beautiful Asheville, NC. I will earn a small commission at no additional cost to you if you purchase merchandise through links on my site. Read more on my
affiliate page
.
---
I know all of you who live farther north than I do are going to laugh at this, but I AM SICK OF SNOW. We had 14 inches dropped on us over Friday and Saturday and we were all but shut down. We used to get decent 3-4″ snows pretty regularly here in the mountains of North Carolina, but it's practically stopped over the past several years. Now, if we get half an inch, it's a huge deal–none of us remember how to drive on it, and we're just not equipped to deal with any significant accumulation. My power went off Friday evening and didn't come back on until Sunday night. We were fine, really, but I have to complain a little. Being shut in the weekend before Christmas is no fun. At least I didn't have to work. A few of my co-workers got caught at work and were on the clock for 36 hours! I can't imagine. I'm sick of the place by the time I finish my normal 13-hour shift. So go ahead and tell me to stop whining already! 🙂
On the other hand, we got all our Christmas gifts wrapped, and I zoomed through a lot of books. You can look for these reviews as soon as I get caught up: Blue Christmas by Mary Kay Andrews, Sun and Moon, Ice and Snow by Jessica Day George, The Beekeeper's Apprentice by Laurie R. King, Madapple by Christina Meldrum, Un Lun Dun by China Miéville, and Black Mountain Breakdown by Lee Smith. And, as much as I dislike snow and cold (I am a summertime baby), even I have to admit that it was beautiful. My husband took some great shots yesterday. I'll share a couple.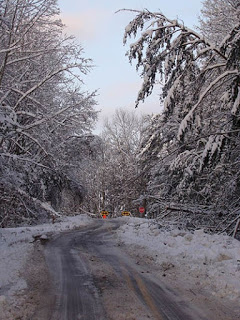 The road to my house.
Our pine trees are not built for this kind of thing!
A neighbor's barn.
Don't you just love it when the snow outlines every tree branch?
How have you been doing? I know this storm affected pretty much the entire East Coast. Do you have any war stories to share? Stay warm and take care!