---
I have an affiliate relationship with
Bookshop.org
and
Malaprop's Bookstore
in beautiful Asheville, NC. I will earn a small commission at no additional cost to you if you purchase merchandise through links on my site. Read more on my
affiliate page
.
---
Well, meeting the artist/illustrator. Close enough, right?
If you read any of the big names in fantasy, chances are you've come across some of Charles Vess's artwork. Listening to him talk last night was like listening to a who's who in the world of fantasy publishing. Names like Neil Gaiman, Charles de Lint, George R.R. Martin, and Susanna Clarke dropped effortlessly from his lips. I would have accused him of name-dropping, except that when you work with the best, who else do you have to talk about?
Charles has just published a 200-page retrospective of his artwork. It's called Drawing Down the Moon: The Art of Charles Vess. And it is gorgeous. Just look at this cover.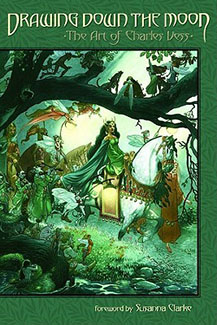 Anyway, he gave a slide presentation at a local bookstore last night and talked about his artwork and a little about what it's like to work with these famous authors. If you get a chance to see him, I encourage you to go. I'm very, very bad to quickly glance at a piece of art, decide if I like it or not, and then move on. Charles took the time to point out some details that have left me poring over each piece in the book to make sure that I'm taking in all the details. If you own the graphic novel Stardust that he did with Neil Gaiman, drag it out. Look at the fairy market. I can't even remember everyone that he said made it into this scene. I know Neil and his daughter are in there, as well as Charles himself and Gandalf. I'm sure there are more, but I'm drawing a big blank right now.
Probably the very coolest thing about a very cool evening was the sneak peek we got at another book he's doing with Gaiman, Instructions. I liked Neil's poem when I first read it in Fragile Things, but Vess's artwork has elevated it to something magical. I'm pretty sure we saw the whole thing in various stages of completion, and I enjoyed hearing Vess speak about why he chose to illustrate certain passages the way that he did. When Instructions comes out, you are going to want your own copy. I promise you.
When we finally got to the signing part, Vess himself was very nice and approachable. I'm incredibly shy about things like this, but he talked to my husband and me about doing a signing for three days one time, the Tolkien knock-offs that were all the rage back in the '70's and how now everything seems to be a Twilight knock-off. All this while signing my book to me and drawing my very own fairy woman on the title page. Very cool.
I finally got my husband to say a little something about meeting Charles Vess. He said something along the lines of, "Charles himself seemed very approachable but still whimsical. It was very cool to meet someone who's worked with so many famous authors, DC Comics, and movie people. And yet Charles was still very down-to-earth. It was nice of him to come to town and do a presentation for us. Most authors seem to just want to sign their books and move on, but Charles took the time to talk to us and interact with us. He didn't have to do all that, but he chose to. I think that says a lot about him."