---
I have an affiliate relationship with
Bookshop.org
and
Malaprop's Bookstore
in beautiful Asheville, NC. I will earn a small commission at no additional cost to you if you purchase merchandise through links on my site. Read more on my
affiliate page
.
---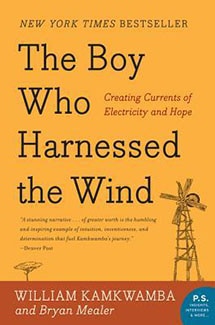 Title: The Boy Who Harnessed the Wind: Creating Currents of Electricity and Hope
Author: William Kamkwamba and Bryan Mealer
Content Warning: Human and Animal Starvation
Genre: Memoir, Science
Audience: Adult
Format: E-book
My Synopsis:
William Kamkwamba is a Malawian boy who is fascinated by science. His farming family wants him to continue his education past roughly the elementary level but they just don't have the tuition money after a famine spreads across the country. As the famine worsens, families who have even a few bites of food each day are considered fortunate. Life gets harder and harder.
Eventually the famine does start to ease and William begins visiting the library regularly. He finds a couple of physics books and becomes fascinated with the idea of wind power. He looks around his village, collects mechanical "junk," and starts to literally build a better life for his family and his village.
My Review:
What an inspirational story! William and his family have almost nothing by Western standards but they do have each other. William has dreams and the willingness to teach himself and try. That takes him farther than he could even imagine.
The part describing the famine was extremely difficult to read. People starve on the roadsides. Pets must fend for themselves or die. No one can think about anything except hunger. Corrupt politicians make the situation so much worse than it had to be. Government thugs punish local leaders who speak out against the corruption. It's an unimaginable situation. This section takes up about half the book, so readers who are sensitive to these kinds of things might want to steer clear. It feels important to read though because most Westerners truly can't conceive of what a famine is like. I know I have a better appreciation now for my local grocery stores and farmers markets.
William persists in his dreams and his self-education despite all the adversity he faces. He truly believes he can make a difference and make life easier for his family. He patiently collects what he needs and one of his best friends, the village chief's son, believes in William enough to give him the money for parts he has to buy. We don't all have William's ingenuity, but we can all help dreamers, even if it's just by having faith in them.
The edition of the book that I read had an afterward to update us on William's life as of 2016. He's come so far and invented so many things that make life easier for innumerable people. I'm proud of a man I've never even met. He proves that one person can make a difference to a lot of people. He's also quick to point out that a lot of benefactors have helped him on his path, proving again that we can all contribute in some way to building a better world.
Some of the content is going to be difficult for some readers but ultimately, this book is brimming with hope and the affirmation that one person can change the world. Highly recommended.
Similar Books:
If you liked The Boy Who Harnessed the Wind: Creating Currents of Electricity and Hope, you might also like my reviews of
Purchase:
Buy The Boy Who Harnessed the Wind: Creating Currents of Electricity and Hope from Malaprop's Bookstore in Asheville, NC.
I have an affiliate relationship with Malaprop's Bookstore/Cafe in beautiful Asheville, NC. I will earn a small commission at no additional cost to you if you purchase merchandise through links on my site.
Reading Challenge: