---
I have an affiliate relationship with
Bookshop.org
and
Malaprop's Bookstore
in beautiful Asheville, NC. I will earn a small commission at no additional cost to you if you purchase merchandise through links on my site. Read more on my
affiliate page
.
---


Laura Grey is tired of her life as a governess, so she joins forces with The Pink Carnation. After the requisite training, she is sent to work as a governess for Andre Jaouen, a high-ranking official in the French Ministry of Police. She's also tasked with finding out any information that might be of use to the Pink Carnation and her league of British spies.
I consistently love this series and rate them around 4 stars but this is one of my favorites. But maybe I say that about all of them–I wouldn't be surprised. They are full of intelligent women who don't need men to protect them but they like to keep the guys around anyway. I grin like an idiot at the witty dialog as I read and I hate to turn the last page. What more can you ask for?
I love the chemistry between Laura and Andre and I love that it is impossible to guess exactly what he's up to. He's a good father who genuinely cares for his children and grieves for his dead wife. He's doing his best to navigate the tumultuous politics of Napoleonic France while staying true to his ideals and protecting his children.
Laura is beautifully flawed and full of contradictions that work. She's the archetype of a strait-laced governess but it's easy to see that there's much more to her than that. She's learned to tame any desires and wishes that she has and just be glad that she's able to support herself and keep a roof over her head. She's scared when she finds herself in dangerous situations but she handles them beautifully and ingeniously. She's probably one of my favorite heroines in the Pink Carnation series. But I probably say that after I read every book too.
I'm over Colin and Eloise's glacially-moving romance. I've never cared for the modern-day story but it just gets weaker and weaker to me. It feels like the author is losing interest in it as well. I will admit that there was a development in this story that could be a setup for some interesting times in the next book though.
Fans of the series won't be disappointed with this installment. There are so few overlapping characters in it that new readers might be able to dive into it without reading the others in the series, but I would still recommend reading them in order.
Read an excerpt.
Find author Lauren Willig on her website and Facebook.
Buy The Orchid Affair at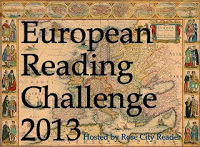 I have an affiliate relationship with Malaprop's, my local independent bookstore located in beautiful downtown Asheville, NC; and Better World Books. I will receive a small commission at no cost to you if you purchase books through links on my site.