---
I have an affiliate relationship with
Bookshop.org
and
Malaprop's Bookstore
in beautiful Asheville, NC. I will earn a small commission at no additional cost to you if you purchase merchandise through links on my site. Read more on my
affiliate page
.
---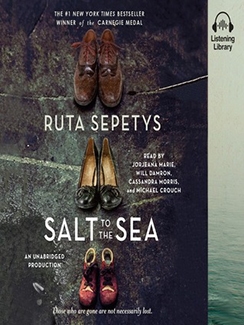 World War II is drawing to a close in East Prussia and thousands of refugees are on a desperate trek toward freedom, many with something to hide. Among them are Joana, Emilia, and Florian, whose paths converge en route to the ship that promises salvation, the Wilhelm Gustloff. Forced by circumstance to unite, the three find their strength, courage, and trust in each other tested with each step closer to safety.

Just when it seems freedom is within their grasp, tragedy strikes. Not country, nor culture, nor status matter as all ten thousand people—adults and children alike—aboard must fight for the same thing: survival.
My Review:
Once again, Ruta Sepetys has found a forgotten corner of history and written a gripping historical fiction novel about it.
I've read a few books that touch on Germans at the end of WWII fleeing the vengeful Soviet army, but none of them were about Germans evacuating by boat. The history was fascinating and gut-wrenching. I simply can't imagine facing some of the choices people have to make in situations like this.
The book rotates through four main characters: Joana, a young Lithuanian woman who has been training as a nurse; Florian, a young Prussian man who carries a secret; Emilia, a Prussian girl who has experienced too much in the war; and Alfred, a German sailor who has completely bought into Nazi ideology. Each character's chapters are read by a different narrator, and each reader brought his or her character to life. Poor Michael Crouch has now narrated two characters in different books whom I dislike so I don't know that I'll ever be able to listen to him again! I guess I believe it is possible to do your job too well.
While this book is marketed for young adults, I highly recommend it for adult readers as well. Sepetys's characters might be teens but they're older teens facing adult situations. Please don't overlook her powerful, moving books because of the intended audience. Highly recommended.
Similar Books:
If you liked Salt to the Sea, you might also like my reviews of
Reading Challenge:
Purchase:
Buy Salt to the Sea from Malaprop's Bookstore in beautiful Asheville, NC or
---