---
I have an affiliate relationship with
Bookshop.org
and
Malaprop's Bookstore
in beautiful Asheville, NC. I will earn a small commission at no additional cost to you if you purchase merchandise through links on my site. Read more on my
affiliate page
.
---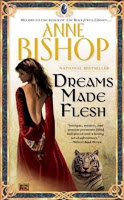 Dreams Made Flesh is a collection of four short stories/novellas centered around Jaenelle and her court. One of the events takes place immediately after the third in the Black Jewels series, so anyone reading this should keep that in mind. It definitely has spoilers for the previous books.
My favorite story by far, was "The Prince of Ebon Rih." How I grinned as I read it! I've always liked Lucivar, but he really is cast as the older brother in the series. There is definitely more to him than that, so it was great to see him as a powerful ruler in his own right and a sexy-as-hell man. Watching him deal with that bitch Roxie was a pleasure. Seeing his insecurity in dealing with Marian was delightful. He didn't know what hit him. Absolutely loved it.
My sister, who shoved this book into my hands saying only, "Read. This. Now." loves "Zuulaman." This is an event from Saetan's younger years that made him a legend. I liked it, but somehow couldn't help comparing it to Guy Gavriel Kay's Tigana. You probably have to be inside my head to see how that happened. I loved Tigana and this story suffered for the comparison. And probably from my sister's buildup. Still, it was a very cool showcase of Saetan's raw power.
"Kaeleer's Heart" would have been good, but it was a little too much like "The Prince of Ebon Rih." It was nice to see Daemon and Jaenelle together, but I felt like I had pretty much read the story already, just a few pages earlier. It is sexy to see the lengths that Daemon is willing to go to in order to protect Jaenelle though.
"Weaver of Dreams" was just a confusing little legend and that's all I have to say about that.
If you enjoy the Black Jewels books, read this one. It was mostly a very cool addition.
Read an excerpt.
My reviews of Daughter of the Blood, Heir to the Shadows, and Queen of the Darkness.
Find author Anne Bishop on her website.
Buy Dreams Made Flesh at
I have an affiliate relationship with Malaprop's, my local independent bookstore located in downtown Asheville, NC; and Better World Books. I will receive a small commission at no cost to you if you purchase books through links on my site.