---
I have an affiliate relationship with
Bookshop.org
and
Malaprop's Bookstore
in beautiful Asheville, NC. I will earn a small commission at no additional cost to you if you purchase merchandise through links on my site. Read more on my
affiliate page
.
---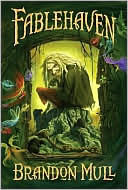 Kendra and Seth have been shipped off to stay with their dad's parents, the grandparents they barely know. Grandma and Grandpa Sorenson rarely show up for visits and they never invite the family for a visit. But when there's no one else to turn to, they reluctantly agree to let Kendra and Seth stay with them for about three weeks.
They find out that things are not quite what they seem at their grandparents' house. They've been forbidden to enter the woods. Insects gather in droves around a mirror left outside. Seth finds a crazy old witch living in a shack when he decides to explore the woods on his own. And Grandma Sorenson is nowhere to be found. Just what is going on at Fablehaven?
I loved this book. It seems like it's been a while since a book grabbed me so hard. I just wanted everything else to be put on hold so I could finish reading.
I love the whole concept of havens for fairy tale creatures. Of course their lives would be getting hard in our quickly-shrinking world. And of course there would be people who want to offer them all–good and bad–sanctuary. What a cool place to visit! What a fun idea to read about!
I liked Kendra and related to her a lot. I would not have been venturing into the forest after I was told not to. I would have been frustrated with my fearless younger brother. And speaking of younger brothers–Seth irritated the heck out of me. He was too much of a rule-breaker. At first, it was just sort of "Oh, my gosh, how irritating. Glad he's not my younger brother!" Then, after he should have learned his lesson in a very hard way and he's still breaking rules, I had just about had enough. Some characters are too stupid to live and Seth really crossed that line for me. There is a difference between fearlessness and stupidity. I guess you can see which camp I think Seth fell into! I understand that he furthered the kids' discoveries of the magic at Fablehaven, but it really needed to be toned down a little.
The plot did rocket along for me, but I can see that for some readers, it might wander a bit. It felt a bit more like individual stories about Fablehaven than one big, coherent plot. Still, it worked for me!
Highly, highly recommended for adventurous readers who are prepared to overlook Seth and his stupidity.
Read an excerpt.
Find author Brandon Mull on his website, Facebook, and Twitter.
Buy Fablehaven at
I have an affiliate relationship with Malaprop's, my local independent bookstore, and Better World Books. I will receive a small commission at no cost to you if you purchase books through links on my site.