---
I have an affiliate relationship with
Bookshop.org
and
Malaprop's Bookstore
in beautiful Asheville, NC. I will earn a small commission at no additional cost to you if you purchase merchandise through links on my site. Read more on my
affiliate page
.
---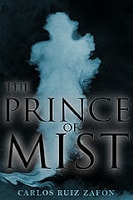 When Max's family moves to the beach to avoid being caught in the city during a war, they don't realize that worse trouble is going to find them.
First of all, I think the name Roland should be retired from fiction forever. It is impossible for me to read it without seeing The Gunslinger. When the character is supposed to be a normal seventeen-year-old boy, you see the problem I had.
Anyway, I found it hard to pinpoint the age group of this book's audience. I didn't realize it wasn't for adults until I started reading it. The writing itself is easy enough for a middle-grade book. But there are a few things that happen that pushed it up into YA territory for me. I don't have kids though, so maybe I'm just naive about what kids read. If I'm not, I'm afraid this will struggle to find the right market.
Not realizing this wasn't an adult book, I was disappointed when I didn't find Ruiz Zafón's gorgeous prose inside. I just adore his writing.
The story itself was suspenseful and engaging. I was curious what was going on almost from the beginning and found myself reading more and more just to try to get to the bottom of things. I think kids who aren't too afraid of things that go bump in the night will enjoy it.
As an adult reader, there were a few things that happened that I just didn't buy. I don't know any seventeen-year-old boy who is going to willingly start hanging out with a thirteen-year-old. Not without seeing his sister first. 🙂 I don't think the kids would have been left alone like they were. And I had problems with the story line surrounding Roland.
As always, hats off to Lucia Graves for an excellent translation.
I had problems with the book. So what? I'm definitely not the target audience. I think kids reading it will probably mostly accept it for the spooky story it is and enjoy it.