---
I have an affiliate relationship with
Bookshop.org
and
Malaprop's Bookstore
in beautiful Asheville, NC. I will earn a small commission at no additional cost to you if you purchase merchandise through links on my site. Read more on my
affiliate page
.
---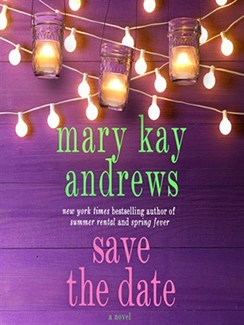 Title: Save the Date
Author: Mary Kay Andrews
Narrator: Kathleen McInerney
Genre: Contemporary Fiction, Romantic, Southern Lit, Women's Fiction
Audience: Adult
Format: Audiobook
My Synopsis:
Cara Kryzik has struggled to get her florist shop, Bloom, to a point where it's financially stable, but she finally seems to be getting there. She's landed some huge society weddings and her clients are spreading the word about her fabulous work. Unfortunately, some stiff new competition has just moved to town, and he's determined to be the top florist in Savannah at all costs.
While Cara's professional life is hitting some rocky ground, her personal life seems to be taking off. After a messy divorce, she's finally met a truly nice guy. She has a puppy that she adores, and her assistant is her best friend and sounding board. Until that all starts to go haywire too.
My Review:
I really, really want to give Save the Date four stars, and I would have, but somewhere about halfway through I got fed up with Cara. Up to that point, she'd been such a little fighter that I'd been rooting for her all along. And sure, she has a lot on her plate, but then she goes looking for–and creates!–trouble where none needs to be. She has a huge blowup with someone that felt completely unrealistic and forced. Then she starts making other questionable decisions that seemed out of character for her and I got fed up. I knew I would finish the book, but I also knew that I'd lost all respect for Cara.
Jack, the love interest, on the other hand, is wonderful. He's got a little bit of a temper, but he's sweet and thoughtful. He's also willing to admit when he's wrong and give other people second chances. What more could a girl ask for?
I do wish that "the bad guy" had gotten more of a comeuppance. I do feel that Cara handled their final conflict the best possible way, but I wish someone else had stepped in and gotten him in some serious trouble. I don't have any patience for people who like to go around starting trouble.
The story itself was pretty cute. The stressed-out bride, the identical pups, the tyrannical landlady, the messy family dynamics that everyone seemed to have, the nasty ex-girlfriend, the nasty ex-husband, all created realistic tensions that most readers will probably relate to.
Kathleen McInerney read the book wonderfully, as always.
This isn't my favorite Mary Kay Andrews book, but it is good enough. I wish Cara's character had been a bit more consistent, but otherwise the story was fun. Fans of the author should give it try. I'd recommend that new readers start with a different one though.
Similar Books:
If you liked Save the Date, you might also like my reviews of
Purchase:
Buy Save the Date from Malaprop's Bookstore in Asheville, NC.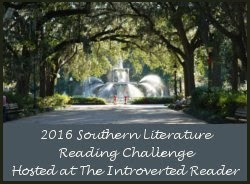 I have an affiliate relationship with Malaprop's Bookstore/Cafe in beautiful Asheville, NC. I will earn a small commission at no additional cost to you if you purchase merchandise through links on my site.