---
I have an affiliate relationship with
Bookshop.org
and
Malaprop's Bookstore
in beautiful Asheville, NC. I will earn a small commission at no additional cost to you if you purchase merchandise through links on my site. Read more on my
affiliate page
.
---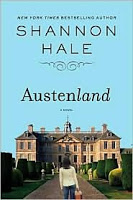 Jane Hayes has a secret. Hidden behind one of her dying houseplants is her very own copy of Colin Firth's Pride and Prejudice. She drags it out and watches it as she eats her ice cream alone in her apartment. When she's in a relationship, she tends to compare the poor guy to Mr. Darcy. Yes, she's obsessed.
But her wealthy great-aunt sniffs out her secret and sends her on a three-week vacation to Austenland, a total-immersion experience where everyone dresses in Regency costume, the servants are invisible, men and women are never alone together, and the electric bulbs flicker romantically. Jane packs up and goes, hoping to kick the Darcy habit for good.
This was very, very cute. Coming to Austen a little later than most, I can't say that I relate to the Darcy obsession (although if I had come across Captain Wentworth before I got married, I would probably have developed an unhealthy Wentworth-habit). But I do understand where Jane was coming from. Heck, if I'd had all the "boyfriends" Jane's had through the years, I would've given up and held out for a fictional character myself!
I did get a little tired of Jane's endless decisions that she was done with Darcy and she was going to kick the habit for good this time. It was a three-week stay and it felt like she analyzed herself to death and came to that resolution almost daily. I knock the book back to 3.5 stars largely because of this.
The men at Austenland were very Austen-esque and I couldn't help but like them. I have to admit my ears perked up when Captain Wentworth's equivalent showed up!
The ending was more than I hoped for. I was listening to this alone in the car on the way home and I was grinning from ear to ear. It wasn't as straightforward as I expected it to be; I had no idea who, if anyone, Jane was going to end up with; and it's something that should satisfy the romantic in all of us.
I listened to this on audio, and I really liked the narrator, Katherine Kellgren. She was pitch-perfect throughout all of Jane's ups and downs, and I loved how much fun she had voicing some of the other women guests. Miss Darling's rolling "R-r-r-r-r-rather!" made me giggle every time!
This was a very fun little take on Austen's world, and I highly recommend it for fans.
Read an excerpt.
Find author Shannon Hale on her website, her blog, Twitter, and Facebook.
I have an affiliate relationship with IndieBound, Book Depository, and Better World Books and will receive a small commission at no cost to you if you purchase books through links on my site.