---
I have an affiliate relationship with
Bookshop.org
and
Malaprop's Bookstore
in beautiful Asheville, NC. I will earn a small commission at no additional cost to you if you purchase merchandise through links on my site. Read more on my
affiliate page
.
---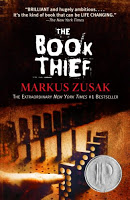 Most of you have probably already read The Book Thief, by Markus Zusak, but it's my very, very favorite book right now and has been for a while.
Liesel Meminger is a ten-year-old girl living in Nazi Germany and being sent to live with foster parents when her younger brother dies. This is the first time she comes to the attention of Death, our narrator. This is also the first time she steals a book. It's entitled The Grave Digger's Handbook. She learns to read using this book, and she begins to feel the power of words. I don't want to spoil anything, so I'll keep the rest of this vague. She continues to steal books, she lives, she loves, she endures more loss, and she somehow manages to surround herself with shining souls in a world that is being lost to the dark.
I would give this book more stars if I could. I was trying to tell my husband how fantastic this is and I was reduced to a stuttering mess of, "So good…power of words…just…you know… so good…I loved it…she just, you know…I mean…I loved Papa…did I mention that I loved this book? No, I mean, I really loved it." That's how I feel, staring at this big, empty review box, trying to find the words to say why everyone has to read this book that I loved. Just read it. Good enough?
Also, this is marketed as a YA book. In all honesty, this is a book that anyone could revisit time and again at different stages in his or her life and pull something different from it every time. Don't be put off by the YA label. I promise you, you'll regret it if you dismiss this as a book for teenagers. It probably actually gains something as readers gain more of their own life experiences.
I'll try to give a little more about why I actually loved this. Death is the narrator of the book. He's perfect for the role. He's completely outside the politics of WWII, he's just there to pick up the souls. Which is not to say that he's without compassion. He's fascinated by humans, but he's repulsed by us too. He can sometimes be judgmental. This line hit me hard, when he was picking up souls from a concentration camp: "They were French, they were Jews, and they were you."
Another theme throughout the book was that of missed opportunities. Don't put off doing something because you might not get another chance. This seemed to be especially true in WWII.
A big theme was the power of words. One character realizes that Hitler's power lies in his words, and slowly paints over every page of his copy of Mein Kampf. Liesel is trying to steal some of that power for herself by stealing the books.
I fell in love with these characters, even some who at first glance seem like they might be unloveable. They all have surprising depth to them. I loved Liesel; I loved her new Papa, who reminded me of an uneducated, blue collar Atticus Finch; and I loved Liesel's friend Rudy. You have to love a boy who is a legend in Nazi Germany for painting his skin black and impersonating Jesse Owens in a hero-worship kind of way.
Really, my feelings for this book are summed up by a line from the book itself. "I have to say that although it broke my heart, I was, and still am, glad I was there." Read it.