---
I have an affiliate relationship with
Bookshop.org
and
Malaprop's Bookstore
in beautiful Asheville, NC. I will earn a small commission at no additional cost to you if you purchase merchandise through links on my site. Read more on my
affiliate page
.
---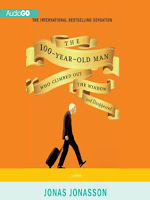 Allan Karlsson impulsively leaves his nursing home by way of his bedroom window on the day of his 100th birthday. There was no real decision-making involved; it was just done. So there he is, on the run in his "pee slippers" (so called because 100-year-old men don't reliably miss their shoes in the bathroom) and no real destination in mind. His journey leads him to the bus stop, where he steals a suitcase and then travels by bus as far as his limited funds will take him. It gets crazier from there as he goes from a missing geriatric to a wanted murderer.
In flashbacks, we read the story of Allan's life. He meets many, many world leaders during his time, influences world events, and makes a lot of friends in strange places.
I try not to read review of books I'm reading too close to the time I start reading them. I don't want others' thoughts to influence my own review. But this title caught my eye and I'd never heard of it, so before I downloaded the audio from the library website, I had a quick look through the GoodReads reviews. I came across many people who compared this to Forrest Gump. I have to agree. But it's like, Forrest Gump to the nth degree. It's just crazy and hilarious. No drama with broken women here. I also have to compare it to the Jim Carrey movie, Yes Man. Allan is an agreeable sort of fellow and he'll do anything to help someone else out, whether it's saving General Franco's life during the Spanish Revolution or giving Stalin the secret to the atomic bomb. Indirectly, in that case. Stalin was one of the few people Allan met that he didn't actually care for. Anyway, his propensity to say yes takes him around the world multiple times in a long life that is both well-lived and always entertaining.
I really enjoyed reading about the old man making a run for it and having one last, great adventure. My grandfather is 96 and basically wheelchair bound. I'm sure he'd like to go out the window and do whatever he likes for a few days. It's nice to read about someone actually doing it, fictional character or not.
I liked the reminder that our elderly have lived long lives that we don't necessarily know much about. Allan is just kind of rotting away in his nursing home, bored out of his mind except for his frequent battles with Director Alice, and no one knows what a full life he's lived because no one's bothered to ask. How many people is that true of? Probably a lot.
I love the dedication, which ends, "Those who only says what is the truth, they're not worth listening to." That's my motto. Why would I stick to the facts when I can tell you a story? Facts are boring. I think I would have liked Mr. Jonasson's grandfather.
The translation by Rod Bradbury is impeccably done and the narration by Steven Crossley is excellent.
For a fun romp through fairly recent history, pick this book up.
Read an excerpt.
Find author Jonas Jonasson on his website.
Buy The 100-Year-Old Man Who climbed Out the Window and Disappeared at
I have an affiliate relationship with Malaprop's, my local independent bookstore located in beautiful downtown Asheville, NC; and Better World Books. I will receive a small commission at no cost to you if you purchase books through links on my site. My opinions are completely my own.