---
I have an affiliate relationship with
Bookshop.org
and
Malaprop's Bookstore
in beautiful Asheville, NC. I will earn a small commission at no additional cost to you if you purchase merchandise through links on my site. Read more on my
affiliate page
.
---

Title: Spring Fever
Author: Mary Kay Andrews
Narrator: Kathleen McInerney
Genres: Women's Fiction, Southern Literature
Format: Audiobook
Synopsis
Annajane Hudgens and Mason Bayless got married when they were fairly young. Both their mothers were opposed to the idea but the young lovers didn't care; they were in love. Their relationship slowly fell apart due to miscommunication, stubbornness, and the crumbling effect of both their mothers chipping away at them at every opportunity.
Five years after the divorce, Annajane is engaged to another man and attending Mason's second wedding. She finally admits to herself that she cares for him and she has to stop the wedding just as Mason's young daughter gets violently sick in the church aisle. Annajane finds herself with an unexpected opportunity to set things right with him.
Review
I just adore Mary Kay Andrews's books because they are so much fun to read! The characters generally come to life for me, I find myself laughing at the trouble they inevitably get themselves into, and the settings feel real. Spring Fever is no exception.
Annajane is not perfect by any means but I liked her. She's doing her best with her life. She works hard, she's trying to get over Mason, she's trying to deal with her overbearing mother, and she's trying not to let her good sense be overruled by her ticking biological clock. Her best friend, Pokey–who has the best nickname I have ever heard– is Mason's sister, so the ex-couple have been involved in each other's lives through Pokey whether they like it or not. When Mason unexpectedly brings home an infant daughter from a brief "fling" shortly after their divorce, Annajane is hurt, of course. But she learns to love little Sophie and the feeling is mutual.
I didn't know what to think of Mason at first. We first see him through Annajane's lens of "what went wrong" and he doesn't come out of that looking too good. But as the story moved on, I really started to like him. He's a true, responsible gentleman to be counted on. I pretty much loved him as much as Annajane did by the end!
There were a couple of things that did have me wanting to reach through my car speakers and knock some sense into everyone's heads. I don't want to spoil anything but there was one obvious whopper of a lie that gets told and everyone buys it, hook, line, and sinker. I knew what was going on as soon as the character in question said it! Ugh! There were a couple of other small instances of this too. I get frustrated when otherwise intelligent characters get a convenient case of brain death to further the plot.
I was a little disappointed by the ending. There were three characters who desperately needed a good old karma-slap but they never really got it. Two of them did to an extent, but it happened "offstage." The reader doesn't really get to see it happen, Annajane and Pokey just mention it in the epilogue. Talk about unsatisfying!
I have listened to several of Mary Kay Andrews's books but this is the first one I've listened to that was narrated by Kathleen McInerney. She sounded a bit young for the roles and her accents were uneven to say the least. Otherwise, I did enjoy her narration.
If you're looking for an easy, breezy beach read, you can't go wrong with this book or any of Andrews's other work.
Buy Spring Fever at Malaprop's Bookstore/Cafe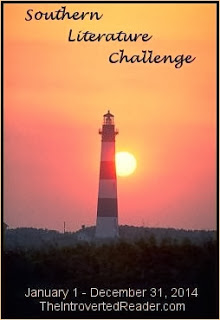 I have an affiliate relationship with Malaprop's, my local independent bookstore located in beautiful downtown Asheville, NC. I will receive a small commission at no cost to you if you purchase books through links on my site. My opinions are completely my own.