---
I have an affiliate relationship with
Bookshop.org
and
Malaprop's Bookstore
in beautiful Asheville, NC. I will earn a small commission at no additional cost to you if you purchase merchandise through links on my site. Read more on my
affiliate page
.
---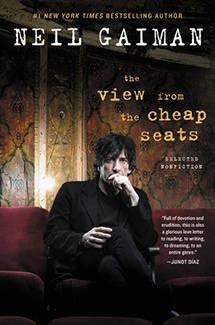 Title: The View from the Cheap Seats: Selected Nonfiction
Author: Neil Gaiman
Genre: Essays
Audience: Adult
Format: Hardcover
An inquisitive observer, thoughtful commentator, and assiduous craftsman, Neil Gaiman has long been celebrated for the sharp intellect and startling imagination that informs his bestselling fiction. Now, The View from the Cheap Seats brings together for the first time ever more than sixty pieces of his outstanding nonfiction. Analytical yet playful, erudite yet accessible, this cornucopia explores a broad range of interests and topics, including (but not limited to): authors past and present; music; storytelling; comics; bookshops; travel; fairy tales; America; inspiration; libraries; ghosts; and the title piece, at turns touching and self-deprecating, which recounts the author's experiences at the 2010 Academy Awards in Hollywood.

Insightful, incisive, witty, and wise, The View from the Cheap Seats explores the issues and subjects that matter most to Neil Gaiman—offering a glimpse into the head and heart of one of the most acclaimed, beloved, and influential artists of our time.
My Review:
I adore Neil Gaiman's work, so I jumped at the chance to review this new collection of his nonfiction. I've read bits and pieces of his graduation speeches and stuff like that and it always makes me stand up and cheer, "Yes! This! This man gets it!" And that should probably tell you where my expectations were.
The collection covers a ridiculous amount of ground. There are the graduation speeches, convention speeches, introductions he's written for books by other authors, articles he's written for magazines, and it goes on and on. The man sure does get around.
And while everything is written with Gaiman's own inimitable style, the book is so big and the territory so varied that there were inevitably sections I just didn't care about. I'm not a big fan of science fiction, so all of that didn't particularly interest me. I do read graphic novels but I'm not widely read in this area, so I was a little lost in that part. I was mildly interested in looking up some of the authors Gaiman raved about, but I never actually wrote any names down and now I've given the book away so I don't think I'll actually find any of them.
Even the parts that I was interested in, such as the fantasy and his articles and speeches about creativity and making art, got a bit repetitive for me when assembled like this. I do appreciate that Bradbury was a phenomenal author, and I appreciate that he was a big influence on Gaiman's work. But two or three introductions/essays in a row about him left my mind wandering, even though they did cover slightly different ground.
Still, Gaiman is such a fabulous, curious writer in his own right and so knowledgeable about so many things that I will always recommend reading any of his work, including this collection. Even though I didn't love it, I appreciated the glimpse inside his own passions and beliefs and thoughts.
Many thanks to the publisher for sending me a copy for review.
Similar Books:
If you liked The View from the Cheap Seats, you might also like my reviews of
Purchase:
Buy The View from the Cheap Seats from Malaprop's Bookstore in Asheville, NC.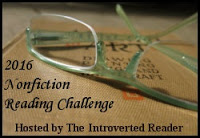 I have an affiliate relationship with Malaprop's Bookstore/Cafe in beautiful Asheville, NC. I will earn a small commission at no additional cost to you if you purchase merchandise through links on my site.