---
I have an affiliate relationship with
Bookshop.org
and
Malaprop's Bookstore
in beautiful Asheville, NC. I will earn a small commission at no additional cost to you if you purchase merchandise through links on my site. Read more on my
affiliate page
.
---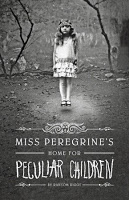 Jacob Portman grew up believing every word of his beloved grandfather's fantastic stories–the levitating girl, the invisible boy, the strong children. Grandpa Portman claimed to have grown up with them all in a special orphanage in Wales. As Jake grows older though, he realizes that the stories can't possibly be true.
After Grandpa's shocking death, Jake has a hard time. He witnessed everything and he can't believe what he saw. He's either going crazy or the world is a scarier place than he realized. He feels that the answers to his questions lie back in that Welsh orphanage. He convinces his father to take him for a visit, and Jake finds much more than he expects.
I loved this! It was so different and quirky. I feel pretty safe saying that if the cover and a quick flip through the pages entice you, you'll love it as well.
The one thing that knocked my rating back a little is that it occasionally felt as if the weird old photographs were dragged in. They didn't always present anything that was necessary for the story, so it pulled me out of the flow a little bit.
But mostly it worked very, very well.
I liked Jake, but the peculiar children…I really liked them, especially Emma in the end. Their peculiar abilities were very cool to read about, especially after seeing their pictures.
I really didn't have a clue where the plot was going so I just sat back and enjoyed the ride. It took some very unexpected twists and turns and I have to say that I'm looking forward to the next installment.
I highly recommend this for anyone who likes a taste of the inexplicable in their fiction.
Thanks to the publisher for sending me a copy for review.
The paperback is now available, and look for the sequel, Hollow City, out in January 2014!
Read an excerpt.
Find author Ransom Riggs on his blog, Twitter, and Facebook.
Buy Miss Peregrine's Home for Peculiar Children at


I have an affiliate relationship with Malaprop's, my local independent bookstore located in beautiful downtown Asheville, NC; and Better World Books. I will receive a small commission at no cost to you if you purchase books through links on my site. My opinions are completely my own.