---
I have an affiliate relationship with
Bookshop.org
and
Malaprop's Bookstore
in beautiful Asheville, NC. I will earn a small commission at no additional cost to you if you purchase merchandise through links on my site. Read more on my
affiliate page
.
---
I will usually finish any book I start, but I am slowly learning that sometimes it's better to cut my losses and move on. Here are two that I've given up on recently.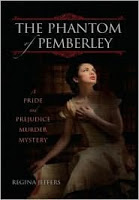 The Phantom of Pemberley by Regina Jeffers
Synopsis from GoodReads:
Newlyweds Fitzwilliam Darcy and Elizabeth Bennet knew their first year of married life at Pemberley would present challenges, but who could have guessed they would need to solve a mysterious case and nab the murderer before he got to them. Written in the language of the era and including Austen's romantic intrigue and sardonic humor, this suspense-packed sequel to Pride and Prejudice recasts Darcy and Elizabeth as a husband and wife detective team – the Nick and Nora of England's Regency era. When inexplicable encounters and deadly accidents begin occurring at Pemberley, the locals blame the strange happenings on the Shadow Man – a spirit haunting the manor. But Darcy believes the truth is much more menacing – someone is targeting them, someone who seeks revenge on the Darcy family.
The author tries a little too hard to copy Austen's "voice" and it fell very flat for me.
"'Must we?' Elizabeth Darcy gave her husband an expectant look. 'I so enjoy being alone with you–away from the responsibilities of Pemberly.'"
Flat yet nauseatingly sappy. Not a good combination for me.
The phrases from Austen's original work that were inserted actually distracted me rather than adding to the book. It was quickly turning into a game of Spot the Original Phrasing.
"Darcy took in her countenance. Hers was a face he had once described as being one of the handsomest of his acquaintance, but now he considered that compliment a slight to the woman. Her auburn hair, her fine sea-green eyes, her pale skin, her delicate features, and her heart-shaped face made her a classic beauty, and Darcy thought himself the luckiest of men."
I have to admit that it somehow seems wrong to read about Elizabeth and Darcy in bed together as well.
I think I read the first chapter and decided life was too short. Moving on.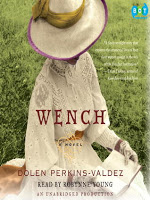 Wench by Dolen Perkins-Valdez, read by Robynne Young
Synopsis from GoodReads:
An ambitious and startling debut novel that follows the lives of four women at a resort popular among slaveholders who bring their enslaved mistresses

wench 'wench n. from Middle English "wenchel," 1 a: a girl, maid, young woman; a female child.

Tawawa House in many respects is like any other American resort before the Civil War. Situated in Ohio, this idyllic retreat is particularly nice in the summer when the Southern humidity is too much to bear. The main building, with its luxurious finishes, is loftier than the white cottages that flank it, but then again, the smaller structures are better positioned to catch any breeze that may come off the pond. And they provide more privacy, which best suits the needs of the Southern white men who vacation there every summer with their black, enslaved mistresses. It's their open secret.

Lizzie, Reenie, and Sweet are regulars at Tawawa House. They have become friends over the years as they reunite and share developments in their own lives and on their respective plantations. They don't bother too much with questions of freedom, though the resort is situated in free territory–but when truth-telling Mawu comes to the resort and starts talking of running away, things change.

To run is to leave behind everything these women value most–friends and families still down South–and for some it also means escaping from the emotional and psychological bonds that bind them to their masters. When a fire on the resort sets off a string of tragedies, the women of Tawawa House soon learn that triumph and dehumanization are inseparable and that love exists even in the most inhuman, brutal of circumstances–all while they are bearing witness to the end of an era.

An engaging, page-turning, and wholly original novel, Wench explores, with an unflinching eye, the moral complexities of slavery.
I'm not loving this narrator, Robynne Young. She's good when she's reading dialogue, but something is off the rest of the time. I'll try again in print.
I have an affiliate relationship with Malaprop's, my local independent bookstore, and Better World Books. I will receive a small commission at no cost to you if you purchase books through links on my site.