---
I have an affiliate relationship with
Bookshop.org
and
Malaprop's Bookstore
in beautiful Asheville, NC. I will earn a small commission at no additional cost to you if you purchase merchandise through links on my site. Read more on my
affiliate page
.
---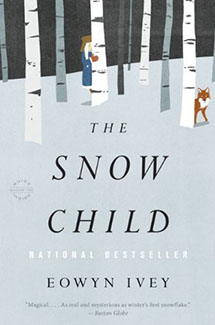 Title: The Snow Child
Author: Eowyn Ivey
Trigger Warnings: Fertility issues, stillbirth, vague suicidal thoughts
Genre: Magical Realism, Fairy Tale, Historical Fiction
Audience: Adult
Format: Hardcover
My Synopsis:
Jack and Mabel always expected to have a large family. But the years passed and they had only one stillborn child. Mabel's broken heart can't tolerate being around her siblings and their large families any longer so she and Jack decide to move to Alaska.
But life is still hard in Alaska, especially during the long, dark winters. When the first snowstorm of the season arrives, Jack and Mabel playfully build a snow girl, complete with coat, mittens, and a sweet smile. Imagine their astonishment when they find that the snow girl has vanished overnight and small footprints lead away into the woods.
My Review:
I enjoyed this but as a woman who has chosen not to have children, I don't think it speaks to me the same way it speaks to mothers or those who long to hold little ones in their arms. But even I found Mabel and Jack's plight heartbreaking and rushed to find out exactly what was going on with the little snow girl. Was she magic? Was she an orphan who coincidentally found the childless couple on the night they built a snow girl?
"We never know what is going to happen, do we? Life is is always throwing us this way and that. That's where the adventure is. Not knowing where you'll end up or how you'll fare. It's all a mystery, and when we say any different, we're just lying to ourselves. Tell me, when have you felt most alive?"
The combination of the harsh frontier life, the magic of the snow girl (was it magic?), and the vivid descriptions of the beautiful Alaskan scenery kept me turning pages.
There are a few scenes that might be triggers for some readers, as noted in the details above. I otherwise recommend it for readers who are looking for a touch of magic in a long, cold winter.
Similar Books:
If you liked The Snow Child, you might also like my reviews of
Purchase:
Buy The Snow Child from Malaprop's Bookstore in Asheville, NC.
I have an affiliate relationship with Malaprop's Bookstore/Cafe in beautiful Asheville, NC. I will earn a small commission at no additional cost to you if you purchase merchandise through links on my site.
Reading Challenge: