---
I have an affiliate relationship with
Bookshop.org
and
Malaprop's Bookstore
in beautiful Asheville, NC. I will earn a small commission at no additional cost to you if you purchase merchandise through links on my site. Read more on my
affiliate page
.
---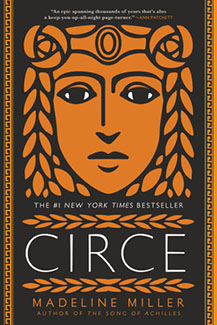 Title: Circe
Author: Madeline Miller
Trigger Warning: Rape (Not graphic or gratuitous but unquestionable)
Genre: Historical Fiction, Mythology, Fantasy, Historical Fantasy
Audience: Adult
Format: Paperback
My Synopsis:
Circe is the oldest child of the Greek god Helios and the sea nymph Perse. Everyone, including Circe herself, believes that she and her siblings lack divine power. She spends her childhood creeping around the edges of godly feasts and trying to avoid the torments that her younger brother and sister devise for her. When her mother gives birth to another son, Circe bonds with him. Aeëtes eventually leads her to believe that maybe they aren't quite as helpless as they appear. When Circe accomplishes a couple of dramatic transformations via magic, the other gods realize she and her siblings are witches. Circe bears the brunt of the gods' punishment and they exile her to the island of Aiaia for all eternity.
My Review:
I've read so many glowing reviews of this book but copies are never available at my library. I finally bought my own book to see what all the fuss is about and I'm so glad I did.
Circe is every woman who has been treated as "less than" because of her gender. As a child, she accepts that everyone overlooks her. She's not as beautiful as the other nymphs, so why would anyone pay attention to her? She's starved for attention though, and makes some terrible decisions. But those decisions lead her to discover that she has magic. Her exile gives her room to discover more about her powers and hone them. Watching her grow into her divinity and carve her own space in the world felt empowering to me.
But Circe also has more heart than other gods. Mortals fascinate her, even as a child. When some try to worship her, she rejects their adoration. While other gods view mortals as play things or simply don't really notice them at all, she's eager to learn more about their world and how their minds work. In addition, other gods never even realize that they're capable of making mistakes. Circe not only acknowledges her errors but tries to make amends. A static life seems boring, but growing and changing and trying to improve? That's the life Circe lives.
I also enjoyed reading about Greek heroes as regular people. Sure, they're wilier and and stronger than most but at the end of the day, they're just humans. Daedalus's suffering began long before he tried to fly. Odysseus is impatient and quick-tempered and regrets some of his decisions in the war, although he would repeat them if he had to. I liked seeing them on a mortal scale.
I highly recommend this. In some ways, it's a fairly quiet book; but I found Circe's transformation from an unassuming girl to a powerful force both engrossing and satisfying.
Similar Books:
If you liked Circe, you might also like my reviews of
Purchase:
Buy Circe from Malaprop's Bookstore in Asheville, NC.
I have an affiliate relationship with Malaprop's Bookstore/Cafe in beautiful Asheville, NC. I will earn a small commission at no additional cost to you if you purchase merchandise through links on my site.