---
I have an affiliate relationship with
Bookshop.org
and
Malaprop's Bookstore
in beautiful Asheville, NC. I will earn a small commission at no additional cost to you if you purchase merchandise through links on my site. Read more on my
affiliate page
.
---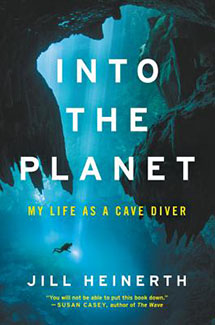 Title: Into the Planet: My Life as a Cave Diver
Author: Jill Heinerth
Narrator: Jill Heinerth
Genre: Memoir, Exploration, Sports
Audience: Adult
Format: Audiobook
My Synopsis:
Jill Heinerth has always loved the water, even though she almost drowned as a toddler. As an adult, she discovered scuba diving. She was a partner in a successful marketing firm, had a nice apartment that she rarely saw, and wasn't very happy. She decided to walk away from it all, move to the Cayman Islands, and become a dive instructor. Cave diving grabbed her attention and she started down a path that led to her diving for National Geographic and earning world records.
My Review:
I don't even remember why I added this to my library wishlist but I'm so glad I did! I'm not a very good swimmer, much less a diver, but I still found Heinerth's experiences fascinating.
She writes beautifully about what keeps her going back in the water, even after many of her friends have passed away on dives. She loves the beauty of those remote natural areas and knowing that she's seeing things that no one has seen before. Her experiences lead her to become a conservationist and she writes of the importance of protecting our water resources. It's all interesting to me.
She's very clear about the dangers of the sport. She recovers bodies of experienced friends who maybe got a bit too comfortable and forgot to do one small, but crucial, safety check. Sometimes bad luck and natural forces work against these divers. To illustrate how easily things can go wrong, she even writes about getting "The Bends" and one instance when rescuers were called out to find her on an easy dive.
Cave diving is not completely divorced from her personal life so she does share that it's hard to find a romantic partner who supports and understands her passion. Her work definitely took a toll on her marriage. She also writes about how difficult it is to be a woman in a male-dominated sport. Early in her career, others overlook her accomplishments and focus on her husband like she's just some sort of appendage instead of a diver in her own right. Internet trolls belittle projects she works on. She's open about her self-doubt back then but now she's confident in her abilities and takes full ownership of her work. I found this part of her story particularly empowering.
Ms. Heinerth does necessarily have to use some technical jargon in the book but she always explains what she means and keeps it to a minimum. I really appreciated that.
I listened to the audiobook, which the author reads herself. Her narration was a bit too earnest for my taste but she otherwise did a very capable job.
I highly recommend this for armchair explorers who want a glimpse of a world that few humans will ever see.
Similar Books:
If you liked Into the Planet: My Life as a Cave Diver, you might also like my reviews of
Purchase:
Buy Into the Planet: My Life as a Cave Diver from Malaprop's Bookstore in Asheville, NC.
I have an affiliate relationship with Malaprop's Bookstore/Cafe in beautiful Asheville, NC. I will earn a small commission at no additional cost to you if you purchase merchandise through links on my site.
Reading Challenge: