---
I have an affiliate relationship with
Bookshop.org
and
Malaprop's Bookstore
in beautiful Asheville, NC. I will earn a small commission at no additional cost to you if you purchase merchandise through links on my site. Read more on my
affiliate page
.
---
Gemma Doyle is living in India, but she desperately wants to move back to England. As 16-year-old girls will do, she's bickering constantly with her mother over it. One day, in the midst of an Indian market, tragedy strikes and Gemma gets sent back to England. But she also starts having strange visions. Can the mysterious young man who has followed her from India help explain anything to her?
At the right age, I would probably have given it more. But from where I am now, the basic premise of girl-fighting-to-fit-in-with-the-popular-crowd has been done too often. I give the author props for giving it some fantastical overtones that caught my attention, but that doesn't hide the fact that this has sort of been done before.
I think part of my problem with the book also comes from the fact that I don't know a whole lot more about these visions now that I've finished the book than I did when I started. This was obviously written to be a part of a series because very little is actually explained. I'm definitely curious enough to keep reading, but I'm a little irritated that so little was revealed. I hope the rest of the series clarifies more.
Reviewed March 30, 2009
If you're wondering, I still haven't read any further in the series and don't think I'm going to.
Read an excerpt.
Find author Libba Bray on her website, her blog, Facebook, and Twitter.
Buy A Great and Terrible Beauty at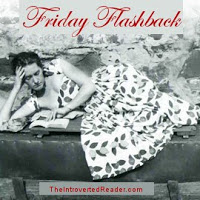 Friday Flashback Reviews are a weekly feature here on The Introverted Reader. These are old reviews I wrote on GoodReads. Thanks to Angieville and her Retro Friday Reviews for the inspiration and encouragement!
I have an affiliate relationship with Malaprop's, my local independent bookstore located in beautiful downtown Asheville, NC; and Better World Books. I will receive a small commission at no cost to you if you purchase books through links on my site.