---
I have an affiliate relationship with
Bookshop.org
and
Malaprop's Bookstore
in beautiful Asheville, NC. I will earn a small commission at no additional cost to you if you purchase merchandise through links on my site. Read more on my
affiliate page
.
---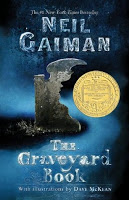 Nobody Owens is being raised in a graveyard. His "parents" are two ghosts. His guardian is a man who only comes out at night and who seems to be neither dead or alive. His real family was murdered and the murderer is still looking for Nobody. As long as he stays in the graveyard, he's safe. But what growing boy isn't curious about the wider world? He has lots of adventures and near-misses, both in and out of the graveyard.
Honestly, I loved this. It was a fun, imaginative book with a hugely loveable main character. Think a tiny bit of "The Boy Who Lived" mixed with a slightly bigger bit of Odd Thomas but a charm that is all his own. Nobody made this book. The other characters were all slightly screwball and they each added to the book in his or her own way. For example, there's the poet Nehemiah Trot who took revenge on a critic by refusing to publish his (Nehemiah's) poems and having them buried with him. He's still waiting on the public to exhume him to publish his lost work. He's been dead over 200 years.
So, mostly this book was character-driven for me. But the stories were fun and interesting too. My biggest complaint is that I could have used a little more explanation as to why Nobody's family was killed in the first place. There is an explanation, but it felt a little weak to me. Maybe there will be a sequel? This book definitely stands alone, but there's always room for a sequel. I would definitely read it if one was published. I recommend this to anyone who thinks the synopsis sounds interesting. If it sounds like a silly premise for a book, you probably will never enjoy it.
Reviewed December 8, 2008
Read an excerpt.
Find author Neil Gaiman on his website, his blog, Twitter, and Facebook.
Buy The Graveyard Book at

I have an affiliate relationship with Malaprop's, my local independent bookstore located in downtown Asheville, NC; and Better World Books. I will receive a small commission at no cost to you if you purchase books through links on my site.