---
I have an affiliate relationship with
Bookshop.org
and
Malaprop's Bookstore
in beautiful Asheville, NC. I will earn a small commission at no additional cost to you if you purchase merchandise through links on my site. Read more on my
affiliate page
.
---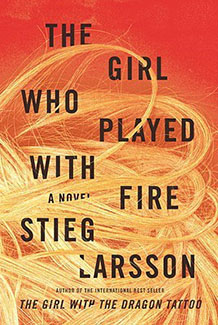 Title: The Girl Who Played with Fire
Author: Stieg Larsson
Translator: Reg Keeland
Series: Millennium #2
Genre: Thriller, Mystery, Translation, Crime
Audience: Adult
Format: Hardcover
My Synopsis:
In the page-turning follow-up to The Girl With the Dragon Tattoo, Lisbeth Salander finds herself wanted for murder and in the uncomfortable position of having to rely on others for help.  Through endless twists and turns, we learn more about Salander's past and worry for her future.
My Review:
I enjoyed this one so much more than the first one that I was left wondering if I just read that one at the wrong time or if Larsson really improved that much between one book and the next. Whatever it was, this was way, way better than I expected, and I'm glad it was chosen as one of my groups' monthly reads. In all honesty, I would probably never have gotten to it.
Once I got into the story, and it did take a little while, I couldn't stop reading until I got to the end. And what an ending! When does the third one come out in the US? Not soon enough, that's for sure! Talk about a cliffhanger!
Salander is just as inscrutable as ever, but she's starting to learn that she shouldn't take her relationships with others for granted. I was so indifferent to the first book that I wouldn't have continued with the series if I hadn't been curious to find out more about Salander. I'm glad I continued and got this payoff. The important parts of her personal story are revealed, and they are every bit as shocking as I expected them to be.
This would have been five stars except for a few things. The first section–55 pages in my copy–doesn't seem to have a real bearing on anything else. I'm left wondering if it will tie in to the third book, or if it was just a long example of how much Salander "hates men who hate women." Also, there were parts that could easily have been edited out. The thing that bothered me the most was when Salander goes furniture shopping. It's two pages of an IKEA shopping list. Two pages doesn't sound like much, but it's so detailed and so unimportant! Who cares?!? Unless you have IKEA's entire collection memorized, it's just filler that needed to go!
I knocked the translation in my review of the first book.  The same guy (Reg Keeland) translated this one, but I think he's improved a lot.  There were only a couple of things that reminded me that I was reading a translation, and they were so small I can't even remember what they were.
Overall, though, for a thrilling read with a complex, troubled, intriguing main character, pick this up.  You just might want to wait until after the release of the third one though.  You will be dying to pick it up as soon as you finish this book.
Similar Books:
If you liked The Girl Who Played with Fire, you might also like my reviews of
Purchase:
Buy The Girl Who Played with Fire from Malaprop's Bookstore in Asheville, NC.
I have an affiliate relationship with Malaprop's Bookstore/Cafe in beautiful Asheville, NC. I will earn a small commission at no additional cost to you if you purchase merchandise through links on my site.