---
I have an affiliate relationship with
Bookshop.org
and
Malaprop's Bookstore
in beautiful Asheville, NC. I will earn a small commission at no additional cost to you if you purchase merchandise through links on my site. Read more on my
affiliate page
.
---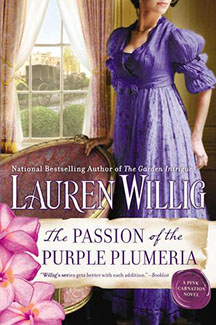 Title: The Passion of the Purple Plumeria
Author: Lauren Willig
Narrator: Kate Reading
Series: Pink Carnation #10
Genre: Romance, Mystery, Historical Fiction, Historical Romance, Women's Fiction
Audience: Adult
Format: Audiobook
My Synopsis:
In the tenth installment of the Pink Carnation series, Jane and Miss Gwen find themselves back in England, searching for Jane's younger sister, Agnes, and her friend, Lizzy. They were in school at Miss Climpson's Select Seminary for Young Ladies, a locale that featured prominently in another Pink Carnation book, The Mischief of the Mistletoe. Jane is afraid that someone has discovered her secret and is using poor, dull Agnes as a means to get to her. Shortly after arriving on the scene to begin their investigation, Lizzy's father, Colonel William Reid, shows up. He's just arrived home from India and has no idea that his daughter is missing. The Colonel, Miss Gwen, and Jane search for the girls, hoping to find them before any harm befalls them.
My Review:
Oh my. I did not ever, in my wildest dreams, expect a book about Miss Gwen! What a hoot! Somehow, I'd decided that she was at least 70. She's actually only about 45. And an attractive 45 at that, if you can get past the fierce way she wields her parasol in defense of Jane's virtue. I'm so glad she got her own story though. I've always thought that she was pretty one-dimensional in a series that is full of so many great, unique characters. Don't get me wrong–I've always liked her–but she's mean and fierce and loves espionage and that's pretty much all I needed to know about Miss Gwen. Except that there's so much more. We learn about her past and what exactly happened to her to leave her such a confirmed, man-hating spinster. She has a huge heart that's been severely wounded and she's doing her best as a single woman in a man's world. She deserves a little happiness.
And that's where Colonel Reid comes in. He's very dashing with his Scottish/American accent and has very stern ideas about honor. He also has very loose ideas about love. As Jacqueline Carey would phrase it, his personal motto could be, "Love as thou wilt." But he loves responsibly, which has left him caring for five children. He does his best by them, even though other "gentlemen" don't recognize their half-Indian offspring. He is as much of a match for Miss Gwen's sharp tongue as any man can possibly be. She always gets the last word, of course, but he holds his own. I was so afraid that I would be disappointed when I realized this one was going to be about Miss Gwen. Who could possibly live up to her? But I finished it happy and satisfied.
I'm getting worried about Jane, though. The pressures of leading the League of the Pink Carnation are starting to take a toll on her.
And then there are Eloise and Colin in 2004. They don't seem to be getting anywhere. For my taste, their chapters could be left out completely. I know they have to be written because that's how the whole series is framed but they really aren't doing anything for me now. It's just moving along so slowly!
Kate Reading did an excellent job with the narration, as always.
I adore this series. It's one of my guilty pleasures. If you haven't started it, fix that now. It is romantic, but it's also funny and clever. Highly recommended.
Similar Books:
If you liked The Passion of the Purple Plumeria, you might also like my reviews of
Purchase:
Buy The Passion of the Purple Plumeria from Malaprop's Bookstore in Asheville, NC.
I have an affiliate relationship with Malaprop's Bookstore/Cafe in beautiful Asheville, NC. I will earn a small commission at no additional cost to you if you purchase merchandise through links on my site.