---
I have an affiliate relationship with
Bookshop.org
and
Malaprop's Bookstore
in beautiful Asheville, NC. I will earn a small commission at no additional cost to you if you purchase merchandise through links on my site. Read more on my
affiliate page
.
---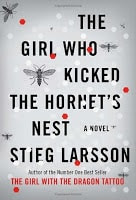 In the interest of avoiding spoilers for the second book, I'll just say that this picks up immediately after that awful cliffhanger of an ending in The Girl Who Played With Fire.
So much has been said that I don't feel like I have a whole lot more to contribute. I (mostly) raced through the book, frantic to find out how big this conspiracy was, how far they would go, whether or not they would finally get caught, and how it would all go down.
Salander wasn't quite as large a figure in this one, for obvious reasons if you've been reading the trilogy, so I missed her. She was still the same old inscrutable, fascinating Salander in the parts she was in. She's growing though. I wish Larsson had been able to write more books about her so we could see how she ultimately turns out.
Three things bothered me. One was the setup of Salander's initial location. Vague enough? That would never happen here in the US. Not where I work anyway. Can you say armed guards (at the least) and different floors? So I'm left wondering if Larsson took an easy way out to steer the book where he wanted it to go or if Sweden is that different. Surely not.
At the very beginning, there's a whole lot of telling and not much showing. We're told what Blomqvist and the police got up to in the few hours immediately after the end of the second book. Why not just write that part as actual scenes happening in real time? It probably wouldn't have taken up much more space and there was certainly enough happening to have kept my attention.
I have had a problem with the amount of detail Larsson includes throughout the entire series. This last(?) installment is no different. I do not care about the history and structure of the Swedish version of the CIA. Tell me there's a group operating outside the rules and I'll fill in the blanks. I don't need pages and pages of details. Neither do I care what each character chooses to wear on a given day.
That said, I was happy with the way things ultimately turned out. I was cheering out loud in Gianinni's big scene and in Lisbeth's final confrontation. I was worried that things would not wrap up well since Larsson died and had huge plans for a series, but things are tied up very neatly in the end.
I'll give a nod here again to Reg Keeland's excellent translation.
If you've read the rest of the series, you know you're going to read this one. I think you'll love it.
My reviews of The Girl With the Dragon Tattoo and The Girl Who Played With Fire.