---
I have an affiliate relationship with
Bookshop.org
and
Malaprop's Bookstore
in beautiful Asheville, NC. I will earn a small commission at no additional cost to you if you purchase merchandise through links on my site. Read more on my
affiliate page
.
---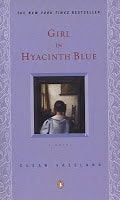 Girl in Hyacinth Blue follows the path of a painting, possibly by Vermeer, from an aloof math professor backwards to the painter and the subject. Each owner has a different story to tell, and even a little bit of a different relationship to the painting, but they all love it and find echoes of something they feel inside themselves inside the painting. And isn't that sort of the point of truly great art?
The novel itself has the feel of a short story collection. Each chapter is about a different owner and is a complete story unto itself. The novel never feels choppy though. But–the writing. Beautiful. It lived up to the painting that I painted inside my head. I truly saw the landscapes Susan Vreeland paints with her words and I truly felt involved with each character's story.
If you love beautiful language, or you love beautiful art, read this book. It's just gorgeous.
Reviewed December 19, 2007