---
I have an affiliate relationship with
Bookshop.org
and
Malaprop's Bookstore
in beautiful Asheville, NC. I will earn a small commission at no additional cost to you if you purchase merchandise through links on my site. Read more on my
affiliate page
.
---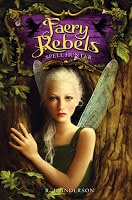 Something isn't quite right in the Oakenwyld. The fairies are terrified to go outside, they're losing their creativity, and their numbers are dwindling. Young Bryony has a chance face-to-face meeting with a human that leaves the other fairies aghast and Bryony remorseful but curious. After Bryony comes of age, Queen Amaryllis appoints her as the Queen's Hunter. Bryony is thrilled. Now she gets to venture out of the tree on legitimate business every day and see a bit of the wider world. She starts to question the way things are, and soon she finds herself torn between not wanting to endanger her friends and trying to find out if she can help them lead a better life.
I enjoyed this. I love fairy tales and I love the idea of fairies. Unfortunately, most of the modern books I pick up about fairies disappoint me. They're so very dark and dangerous. I want to see the cute little flower fairies. (Why, yes, I do think Disney Fairies are the cutest things ever!) This delivered the cute fairies with flowery names while also giving me a mystery that kept my attention. This is probably more of a middle-grade book than a young-adult book, but I still couldn't guess how everything was going to tie together and end up. There's a little darkness, a little twisty-ness, but nothing that went too overboard.
Bryony is such a feisty little thing, I couldn't help but love her. She's practically fearless. Fearless can lead to stupidity in real life, and it happened a little with Bryony too. She would occasionally get over-confident and she'd pay the consequences and learn from her mistakes. She isn't content with hearing, "That's the way things are," she wants to know why things are the way they are and if it doesn't make sense to her, she challenges the status quo.
The next book in the series, Wayfarer, was just released in the US, and I'll be keeping an eye out for it. This was a nice little break for me.
Pick this up if you don't like your fairies quite so dark.
Spell Hunter is published as Knife in the UK.