---
I have an affiliate relationship with
Bookshop.org
and
Malaprop's Bookstore
in beautiful Asheville, NC. I will earn a small commission at no additional cost to you if you purchase merchandise through links on my site. Read more on my
affiliate page
.
---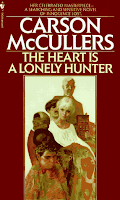 John Singer is a deaf-mute living a solitary life in a Southern city. His best friend, Spiros Antonapoulos, has been taken away to the state asylum. But as Singer makes his solitary way through life, he draws a group of four lonely individuals to him: Mick Kelly, a poor young girl with dreams of being a famous composer; Jake Blount, an alcoholic trying to spread the word about the evils of capitalism and the glory of Communism; Dr. Copeland, an African-American doctor trying to lead his people to a better life; and Biff Brannon, a cafe owner who is trying to figure out what the others see in Mr. Singer.
I read this back in college but couldn't remember a thing about it when we decided to read it for book club. Time for a re-read! Now I know why I wiped it from my memory.
This is one of those novels that is probably classified as "Realism" and that I choose to call "Pessimism." No one is happy. No one will ever be happy. They are all going to die alone and misunderstood. And McCullers seems to be saying that's the way life is for everyone. I refuse to buy it. That's my biggest problem.
Another problem is that nothing really happens. Nothing. The book just drifts from character to character, each of whom just will not move on to another topic to think about. There's only so much I can read about Mick's "inner room" and how much she loves music. I can list about three or four events that are actual events. The rest of it is just repetitive introspection.
I will say that Carson McCullers' writing voice is perfect for the story. It just feels stark and lonely from the beginning. Perfect for this bleak novel.
I didn't like any of the characters. Mick could have been a great character for me. A dreamy Southern girl who loves music? I should have loved her. But she's too antsy and aggressive. She just won't let well enough alone. She's always picking at everyone in the family. Her tendency to yell at people to leave her secret treasure box alone had my elder sibling tendencies kicking; I was itching to open it up and taunt her with it. I never understood why no one else did. Blount is just an alcoholic. Dr. Copeland won't come down from his ideals to work with the real, living people around him. He sees "his people" the way he wants to see him rather than how they are and so he never reaches them. I still don't know where Biff Brannon was coming from. He's an observer, so maybe he was supposed to give me an outsider's perspective, but he just puzzled me with his motherly tendencies. I didn't even understand Mr. Singer. He was objective enough to realize that the others saw in him what they wanted to see but he couldn't see what a drag Antonapoulos was and move on.
If you like your books stark and bleak, you'll probably like this one. If you see any hope in the world, you should probably give it a pass.
Read an excerpt.
Read more reviews at Dead White Guys, A Good Stopping Point, and Rebecca Reads.
If you liked The Heart is a Lonely Hunter, you might also like Ethan Frome by Edith Wharton, Death of a Salesman by Arthur Miller, and Fall on Your Knees by Ann-Marie MacDonald.
Buy The Heart is a Lonely Hunter at