---
I have an affiliate relationship with
Bookshop.org
and
Malaprop's Bookstore
in beautiful Asheville, NC. I will earn a small commission at no additional cost to you if you purchase merchandise through links on my site. Read more on my
affiliate page
.
---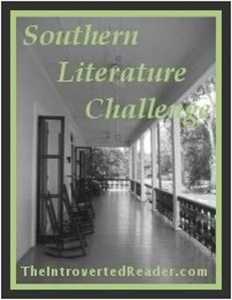 It's that time of year again–time to sign up for challenges! I've decided to host the 2012 Southern Literature Challenge this year. I personally read more Southern lit this year than I usually do because of this challenge, and I hope it encouraged a few of you to read it as well. The rules will be the same as last year.
Read a book(s)–non-fiction or fiction of any genre, adult or young adult–written by an author from the South and set mostly in the South.
Definitions of the South are flexible, so I've decided to define it the way I want. That's the fun of hosting your own challenge, right? 🙂
The states:
South Carolina
Georgia
Alabama
North Carolina
Virginia
Tennessee
Mississippi
Louisiana
Kentucky
West Virginia
Texas
Arkansas
Florida
Please keep in mind that this is a Southern literature challenge. It's possible to find books set in each of these states that are not Southern in nature or feeling. Use your best judgment when choosing your books.
Levels:
Level 1–C'mon in the house! Read 1 book.
Level 2–Pull up a seat and stay a while! Read 2 books
Level 3–Have a glass of sweet iced tea, honey. Read 3 books
Level 4–Y'all come back now, y'hear! Read 4 books
The challenge will run from January 1, 2012 to December 31, 2012. You can join in anytime throughout the year.
I am not limiting the challenge to bloggers. You can also link to a review you wrote on another site, such as GoodReads or LibraryThing.
Crossovers with other challenges are acceptable, and feel free to read your books in any format you choose.
Reading suggestions: I have a shelf on GoodReads with lots of books on it. There's also a Best Southern Literature list on GoodReads that readers have voted on that should give you lots of ideas. Also, check out my spotlight of Southern authors at my Saturdays in the South feature.
I can't help but feel like there should be a reward for a challenge successfully completed. So, I'll offer up one Southern lit book of your choice (up to $15) to two randomly-drawn readers at the end of the challenge. Each review you link will give you one entry, with a limit of four entries per person. This part will be open to anyone who lives in an area where Book Depository offers free shipping.
We have some wonderful authors down here, and I hope you'll join me in discovering them! Just grab the button and sign up on Mr. Linky below!
I'm signing up at the Y'all Come Back Now level. I'll track my progress here.
Post your reviews here as well. Just post your name or blog name and the title in parentheses. Ex: The Introverted Reader (To Kill a Mockingbird).
Powered by… Mister Linky's Magical Widgets.
---