---
I have an affiliate relationship with
Bookshop.org
and
Malaprop's Bookstore
in beautiful Asheville, NC. I will earn a small commission at no additional cost to you if you purchase merchandise through links on my site. Read more on my
affiliate page
.
---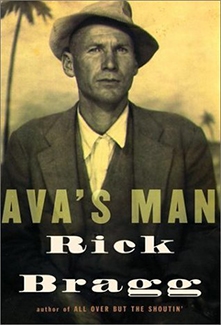 My Synopsis:
Rick Bragg never knew his maternal grandfather, Charlie, but the man is a legend among the family and friends he left behind. A good provider, a loving father, a teasing husband, a loyal friend, he was also a bootlegger who loved his own product and had a temper. He never turned it on anyone who didn't deserve it, and apparently some of the best stories about him took place when he'd been drinking.
My Review:
My uncle has been telling me for–oh, years now, that I just have to read Rick Bragg. I do take his recommendations seriously, but my to-read list is out of control and I'm just now getting to him. How I wish I had listened to my uncle earlier. I will not be waiting years to read more of Bragg's work, that is for sure.
This book was great. It just felt like home, and can there be any higher praise for a book? Granted, my daddy doesn't drink alcohol and my parents still live in the same house we grew up in, but Bragg's language and stories felt right in a way that is hard to explain. They settled on me like well-worn clothes or shoes, for all that I've never read his work before. Read this: "He spoke in the language–the very specific language–of the Appalachian foothills. It was an unusual mix of formal English and mountain dialect. The simple word 'him' was two distinct sounds–'he-yum.' And a phrase like "Well, I better go," was, in the language of our people, more likely to sound like 'Weeeelllll, Ah bet' go.' Some words are chopped off and some are stretched out till they moan, creating a language like the terrain itself. Think of that language as a series of mountains, cliffs, valleys, and sinkholes, where only these people, born and raised here, know the trails." Yes. That. I have never and don't think I will ever read a better description of our dialect. That is it, right there. Don't judge it; listen to it and relax into it, give us time to get to our point, and enjoy the ride.
It's easy to see why Charlie's family still mourns him. His breed is becoming more and more scarce in the "New South." Bragg writes about this in his epilogue. "The realities of this new, true South are not as romantic as in Charlie's time, as bleak and painful as that time was for people of his class. The new, true South is, for people like him, a South of mills that will never reopen, of fields that will never be planted again, of train tracks that are being turned into bicycle trails. In the new, true South, it is harder to be poor and proud, harder to work your way into an unapologetic, hard-eyed independence." It's true. But we still see remnants and throwbacks from that time, and we honor them. Men like Charlie might not have had much education, but they did what they had to do to feed their families and they never backed down. They wrung every bit of life that they could out of their allotted time.
All that sounds all serious, but my favorite parts were the funny stories, and there were plenty of those. I kept reading bits aloud to my husband, and even he (not a Southerner or a reader) would bust out laughing. He'll still say, "But God ain't that gravy good," and crack himself up. That was a great story. I think I read that one to anyone who would listen for a few days, and they all laughed out loud as well. There are a few run-ins with the law, some run-ins with honest-to-goodness criminals, tales of fishing on the river, friends and strays picked up and cared for along the way, children and grandchildren loved beyond all reason, and Charlie's own hilarious quirks and screw-ups.
There's no big theme or lesson or plot here, just stories about a good man doing his best in a changing world. Except that is a lesson in itself, isn't it? Bragg obviously misses the grandfather he never met, and he writes so beautifully about Charlie that I miss him as well. Pick this one up, laugh and cry by turns, and be thankful that you got to know him too.
Similar Books:
If you liked Ava's Man, you might also like my reviews of
Reading Challenge:
Purchase:
Buy Ava's Man from Malaprop's Bookstore in beautiful Asheville, NC or
---