---
I have an affiliate relationship with
Bookshop.org
and
Malaprop's Bookstore
in beautiful Asheville, NC. I will earn a small commission at no additional cost to you if you purchase merchandise through links on my site. Read more on my
affiliate page
.
---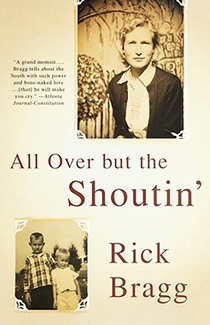 My Synopsis:
Rick Bragg grew up poor in Alabama. His daddy was very rarely in the picture and his momma did the best she could at whatever job she could find to keep her three sons fed. She mostly did the back-breaking work of picking cotton for very little pay. It wasn't easy to be a single mother in 1960ish Alabama but she did her best. In this memoir, Rick Bragg writes with deep love and hard truths about the sacrifices his momma made for him and his brothers and the life he was able to build because of her. He left the cotton fields of Alabama to become a Puliter-prize winning journalist for the New York Times. This is their story.
My Review:
All of that up there sounds deadly serious but mostly what I took away from this book is humor and grace. Somehow Rick Bragg's first memoir is the last one I've read and I have literally laughed 'til I cried in every one. I've read my family members bits here and there and retold stories I remember and made everyone listening to me laugh too. Maybe they're just humoring me, but I don't think so.
Reading the other books first, I expected this one to be more about momma. (It's impossible to call her anything else. I went to an author signing and the first question anyone asked him was, "How's your momma doing'?" We were supposed to be there for his biography of Jerry Lee Lewis. Who wants to know about celebrities? We wanted to know about momma.) Which is stupid. They're all about momma. She is the heart of all these stories. So I guess what I mean is that I expected it to tell more of momma's own life story. It does but I still just want to know more about her. She probably doesn't want anything like that written about herself though. I can just imagine if I told my Mama that I was going to publish a book about her life. She'd pitch a fit. I imagine Rick's momma would feel the same.
I love the tales of Rick growing up and the old family stories but I also enjoyed reading chapters about Rick's career as a reporter. Those could be pretty harsh. The parts about Haiti were just awful. I read about riots in Miami and asked my husband how he ever made it out of there alive, only half joking. As much as I love the humorous stories, Rick Bragg can make you feel like you're in the middle of any scene he wants, and sometimes that leads to some terrifying places.
I love reading Rick Bragg's writing. I hear it more than I read it, even as my eyes are moving slowly across the printed page, savoring the language. I don't know how it reads to anyone else, but his Alabama words read like home to me. He writes the way I talk and I love it. Apparently it's more about the Appalachians than it is about the state we're from because I'm a North Carolina girl but it all rings true. I listened to the audio version of his second memoir, The Prince of Frogtown, read by the author, and I loved it. I can't say which format I enjoy more.
Just go read this. It's a book with a lot of heart and sometimes those feel like they're hard to find. You'll be glad you took the time to read this one.
Similar Books:
If you liked All Over but the Shoutin', you might also like my reviews of
and my post about meeting Rick Bragg.
Reading Challenge:
Purchase:
Buy All Over but the Shoutin' from Malaprop's Bookstore in beautiful Asheville, NC or
---