---
I have an affiliate relationship with
Bookshop.org
and
Malaprop's Bookstore
in beautiful Asheville, NC. I will earn a small commission at no additional cost to you if you purchase merchandise through links on my site. Read more on my
affiliate page
.
---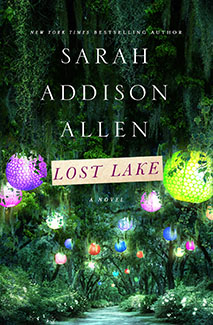 My Synopsis:
Kate has been living the past year of her life in a daze. Her husband died and she's retreated into herself, letting her mother-in-law make all the decisions for Kate and Kate's whimsical daughter, Devin. But Kate wakes up one morning to find that she's somehow agreed to sell her house and move in with her mother-in-law, who does mean well but who invariably crushes Devin's unique charm. So Kate and Devin hit the road, only to find themselves at Lost Lake, an old summer camp/resort owned by Kate's aunt Eby.
Eby has been mourning her husband for years now and she's tired of putting on a brave face. She's just agreed to sell her property to a land developer. But there's something magical and healing about this lake that can't be lost in a land grab. Lost souls tend to gather here to look for hope and redemption. Now they must come together to save the place that's saved so many of them.
My Review:
When I first read this, I thought it was another solid four-star book from Sarah Addison Allen. But now that months have passed, it's faded away and I'm only left feeling that it was a decent entry in her body of work. I'm bumping it back to three stars.
Devin may have been my favorite character. She's a bright child but she definitely marches to her own drummer. She loves to play dress-up and can frequently be found in outlandish combinations such as fairy wings and cowboy boots. What's not to love? She responds to the lake's magic almost instantly and fights hard to save it and solve old mysteries.
The resident chef, Lisette, broke my heart. Her first romance was troubled to say the least, leaving her mute and solitary. It's obvious that she has a lot to offer the people around her but she chooses to remain isolated, only offering peeks of her soul through her cooking.
The other characters were solid enough. I wanted to shake both Kate and Eby at times. The faithful flock of summer residents were a hoot. All ancient in years, they have young, irrepressible spirits and they aren't losing their refuge without a fight.
So why only three stars? The plot just felt a bit too familiar. There's nothing wrong with familiar; familiar is comfortable. But familiar doesn't really stand out either. And I can't say it any better than that.
I think Sarah Addison Allen fans will definitely enjoy this one, I just don't think it will be a favorite. Readers new to Ms. Allen's work will probably be enchanted. I do enjoy her books and hope she continues sharing them with us for years to come.
Side note: Isn't that a gorgeous cover? The first time I saw it, I had recently returned from vacation in Las Vegas and the national parks near there. It reminds me of the lobby of the Wynn hotel (we just wandered through–it was definitely out of our price range!). What do you think?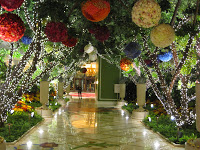 Similar Books:
If you liked The Girl Who Chased the Moon, you might also like my reviews of
Reading Challenge: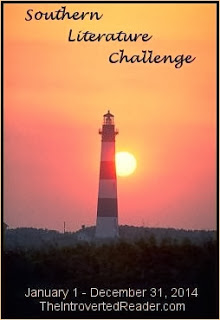 Purchase:
Buy Lost Lake from Malaprop's Bookstore in beautiful Asheville, NC or
---