---
I have an affiliate relationship with
Bookshop.org
and
Malaprop's Bookstore
in beautiful Asheville, NC. I will earn a small commission at no additional cost to you if you purchase merchandise through links on my site. Read more on my
affiliate page
.
---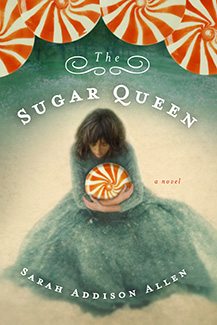 In keeping with my Sarah Addison Allen theme this week, I thought I'd push one of her books at you. Garden Spells is my favorite, but my review for it isn't very good. You're getting this one instead. 🙂
My Synopsis:
Josey Cirrini is finding out that it's hard to change your reputation in a small Southern town. She's a model daughter: she's buried her own hopes and dreams and instead lives to take her mother to endless meetings, teas, and doctor's appointments. But everyone in the town still looks at her as the horrid, spoiled little rich girl who kicked their shins and stole candy from their stores. But one morning, Josey wakes up and finds the town's bad girl in her closet. Della Lee has had enough of her life and is starting over up north–just as soon as she takes a break in Josey's room. She pushes Josey to come out of her shell and to start living her life for herself.
My Review:
This wasn't exactly what I expected when I started it. I was expecting a typical shy-girl-meets-handsome-guy story. But it wasn't exactly like that. This was more about finding the courage to get to know yourself. The importance of female friendships. The jealousies between mothers and daughters. Surrounding yourself with people who are good for you and cutting out the ones who are negative influences. And how you can't really have healthy relationships with others until you do have a healthy relationship with yourself. Part of me wanted more of the boy/girl stuff. But the biggest part of me is thrilled that an author tackled these subjects. We have plenty of boy/girl stories out there. We don't have enough books reminding us that other relationships are important too.
I love the way Sarah Addison Allen weaves little pieces of magic into her stories. This book had one of my favorite little magics ever. Chloe Finley, Josey's new friend, is a book magnet. Ever since she was a little girl, books have magically appeared to her when she needs them. The first time it happened, she was bored at her grandparents' farm and a book of card tricks appeared to her in the woods. When her family started noticing all these books that they hadn't bought for her, a book of simple storage solutions appeared. I just love this idea. Why can't I have that kind of magic?
I just have to include this quote that any book lover will relate to: "Books can be possessive, can't they? You're walking around in a bookstore and a certain one will jump out at you, like it had moved there on its own, just to get your attention. Sometimes what's inside will change your life, but sometimes you don't even have to read it. Sometimes it's a comfort just to have a book around. Many of these books haven't even had their spines cracked. 'Why do you buy books you don't even read?' our daughter asks us. That's like asking someone who lives alone why they bought a cat. For company, of course."
I liked this so well that I read on through all the book club questions and author interview and deleted scenes. I was floored when I saw this question in the author interview: "Is there really skiing in North Carolina?" Okay, I'm a NC native, and I probably don't know as much about your state as I should, but this just floored me. We'll never come close to competing with Colorado or Vermont, but we do have skiing. If you're in the area in the wintertime, come on over and give us a try.
So, I do recommend this. I enjoyed her other book, Garden Spells, more, but this was still a sweet little book with some important messages for women.
Similar Books:
If you liked The Sugar Queen, you might also like my reviews of
Purchase:
Buy The Sugar Queen from Malaprop's Bookstore in beautiful Asheville, NC or
---