---
I have an affiliate relationship with
Bookshop.org
and
Malaprop's Bookstore
in beautiful Asheville, NC. I will earn a small commission at no additional cost to you if you purchase merchandise through links on my site. Read more on my
affiliate page
.
---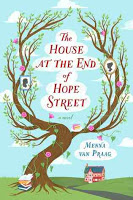 Alba Ashby is mortified. On the cusp of a brilliant career as a historian, she's lost everything, including her hope. Then she finds herself at the house at the end of Hope Street. Peggy, the eccentric caretaker of the home, invites Alba in and starts to regale her with stories of the house's more famous residents. It seems that every woman who has ever been anyone has stayed at the house at a time in their lives when they desperately needed hope as well. Peggy invites Alba to stay, but she only has 99 nights to resolve her issues and leave the house.
With a comparison to Jasper Fforde, Lev Grossman, and Sarah Addison Allen in the book blurb, I had high hopes for this. I don't know exactly how all of those authors fit in, but I thoroughly enjoyed the book anyway.
The book mostly centers around Alba but it's also the story of Peggy and two other women staying at the house, Greer and Carmen. There were aspects of each woman that I think will resonate with all of us. I couldn't help but root for them, hope they worked out their problems, and wish them all their happily-ever-afters.
I want to live in this house, let me tell you. It readily dispatches advice (asked-for or not), has a knack for supplying exactly what you need, and giving you the tools you need to succeed. The walls are lined with photos of past residents who also form a sort of Greek chorus, commenting on events and offering their opinions. When Dorothy Parker, Agatha Christie, or Vita Sackville-West speak up, a wise woman listens. There's also a resident ghost but the only person who sees her is Alba. They form an instant friendship, something sadly lacking in young Alba's lonely life.
I do hate to sound like a book blurb, but fans of Sarah Addison Allen really will enjoy this book. It's charming, whimsical, and full of hope.
Thanks to the publicist for providing me a copy for review.
The House at the End of Hope Street is released today in the US!
Read an excerpt.
Find author Menna van Praag on her website, her blog, Facebook, and Twitter.
Buy the book at
I have an affiliate relationship with Malaprop's, my local independent bookstore located in beautiful downtown Asheville, NC; and Better World Books. I will receive a small commission at no cost to you if you purchase books through links on my site.