---
I have an affiliate relationship with
Bookshop.org
and
Malaprop's Bookstore
in beautiful Asheville, NC. I will earn a small commission at no additional cost to you if you purchase merchandise through links on my site. Read more on my
affiliate page
.
---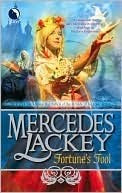 Katya is the Sea King's youngest daughter–and his eyes and ears in trouble spots. Sasha is the seventh son of the King of Led Belarus, which makes him a Fortunate Fool. But his foolery is only an act to gently steer the Tradition in ways that lead to peace and prosperity for his kingdom. The Tradition is made up of all the tropes that are always found in fairy tales. A seventh son meets an old beggar woman on the road? If he's nice to her, she'll help him with his task. If not, she'll curse him in some way. You get the idea. Anyway, something evil has popped up just outside the border of Led Belarus. The Sea King is worried and sends Katya to investigate. Sasha is worried about Katya and this darkness this close to his happy kingdom's borders. Will they defeat whatever's there with the help of some very unlikely allies?
First of all, this book starts off with a plot that has very little to do with where the novel is actually going. It sets up an element of the overall story, but it still felt like a hundred pages could have been trimmed off by just quickly explaining where Katya got this magic object.
That aside, I did like the book. Sasha and Katya have such big hearts that you can't help but like them and root for them. Katya is very feisty and intelligent, and you know I love those kinds of female characters. Other females in the book might not start off very promising, but even they start to gain some self-confidence by the time everything ends. Sasha is a handsome, unassuming charmer. He loves to tease people, but he's always quietly looking out for everyone's best interest. He's very smart as well. He understands quite a bit about the Tradition that dictates their lives and he's very careful about subtly manipulating it in ways he wants it to go. At the same time, he understands that perfection invites trouble, so he leaves minor darknesses alone, both to placate the Tradition and to keep his people from getting too complacent. How wise is that?
I love this world that Mercedes Lackey has created in her Five Hundred Kingdoms series. It's very much grounded in the best fairy tale traditions and yet everything fits together in a way that makes it unique. I loved reading the descriptions of the Sea King's kingdom, and the way that some old fairy tale favorites are woven into the story.
This is a series, but I don't think you necessarily have to read them in order. There are some recurrent characters, but very little of their backstory is given away, so I think you'd still be safe from most spoilers.
I recommend this for fairy tale fans looking for some light reading. It might not be Literature, but it sure is a lot of fun.
My reviews of the first two in the "series," The Fairy Godmother and One Good Knight.
Read an excerpt.
Find author Mercedes Lackey on her website, her blog, Twitter, and Facebook.
Buy Fortune's Fool on
I have an affiliate relationship with IndieBound, Book Depository, and Better World Books and will receive a small commission at no cost to you if you purchase books through links on my site.