---
I have an affiliate relationship with
Bookshop.org
and
Malaprop's Bookstore
in beautiful Asheville, NC. I will earn a small commission at no additional cost to you if you purchase merchandise through links on my site. Read more on my
affiliate page
.
---


Cassandra Mortmain lives in a castle. Don't let that fool you–the castle is crumbling around her family's ears. Her father had the (mis)fortune to publish an incredible book early in his career and he hasn't been able to write another word since. In other words, the family is practically destitute. But then the owner of the castle dies and his American relatives inherit the property. Two young, handsome, and available relatives. Will one of them fall in love with Cassandra's older sister Rose and turn the family's fortunes around?
I think that if I had found this book when I was about 15 I would have fallen in love with it. At 30, I really, really liked it. The story is told through Cassandra's journal, and she is brutally honest and funny. She's one of those characters that you wish you knew in real life. Really, I felt something for every character, whether I was amused by Cassandra's spacey stepmother, Topaz, or frustrated by Mr. Mortmain, they all got a response out of me.
The story was enjoyable–funny, sad, reflective, and everything in between–and kept me guessing all the way through. I had no idea how everything was going to turn out.
Primarily though, this is a story about Cassandra's coming of age. We watch her go from an innocent child swimming in the castle moat, to a young woman learning about herself and what she's looking for in love. Those parts were timeless and perfect. There can't be many women out there who don't relate to what Cassandra goes through in the course of the story. For that reason, I would recommend this to anyone who wants to relive a little bit of those years, as well as those who are going through that stage of life right now.

Reviewed February 26, 2009
Read an excerpt.
A movie version starring Romola Garai was released in 2003 and I recall enjoying it as well.
Buy I Capture the Castle at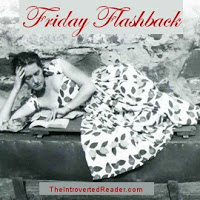 Friday Flashback Reviews are a weekly feature here on The Introverted Reader. These are old reviews I wrote on GoodReads. Thanks to Angieville and her Retro Friday Reviews for the inspiration and encouragement!
I have an affiliate relationship with Malaprop's, my local independent bookstore located in beautiful downtown Asheville, NC; and Better World Books. I will receive a small commission at no cost to you if you purchase books through links on my site.