---
I have an affiliate relationship with
Bookshop.org
and
Malaprop's Bookstore
in beautiful Asheville, NC. I will earn a small commission at no additional cost to you if you purchase merchandise through links on my site. Read more on my
affiliate page
.
---
Yunior has cheated one too many times. The smartass Dominican narrator of The Brief Wondrous Life of Oscar Wao is just not in a good place. In a series of short stories set around different events in his life, he reflects on how he has arrived at this point.
This is so hard for me to rate!
I was not happy through most of these stories. I really, really, really liked Yunior in Oscar Wao. Would I ever date him? Absolutely not. Did I like him? Yes. He was a screw-up at best but he seemed to have his life together by the end of that book. At least from what I remember.
But this shows us that he doesn't. He can't seem to change his ways.
He relates affairs, his relationships with his brother and his father, his friends' affairs…. This is not a happy romcom by any stretch of the imagination.
I still loved Yunior's voice, I just wanted to smack him around until he became the person I knew he could be.
And then.
And then I read the last page and a half. Yes. That close to the freaking end of a book that was at best three stars, Junot Díaz rocked my world. I understood where Yunior was coming from and what he was trying to do. I understood what he was saying. And I loved it. I had goosebumps, it was so perfect. I am not lying. I started seeing what was going on and I got more and more excited and then I read the last sentence and I was in love. It was perfection. Seriously. I immediately wanted to flip to the front and start over and see how my perspective shifted now that I got it. But the library book is due tomorrow so I don't have time for that. I probably need a little distance anyway.
There is one story written from a female point of view. As far as I could tell, she didn't have anything to do with Yunior but she added another layer to the threads of the immigrant experience and fidelity in relationships.
There is a lot going on in this slim book. Families, illness, immigration, relationships, starting over, loss, and more I can't think of right now. None of it was particularly easy to read, but with this book, Junot Díaz has made me a fan for life. I recommend it if a very stark reality and tough themes don't turn you off.
Read an excerpt.
My review of The Brief Wondrous Life of Oscar Wao
Find the author on his website and Facebook.
Buy This is How You Lose Her at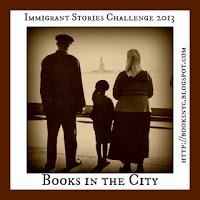 I have an affiliate relationship with Malaprop's, my local independent bookstore located in beautiful downtown Asheville, NC; and Better World Books. I will receive a small commission at no cost to you if you purchase books through links on my site.