---
I have an affiliate relationship with
Bookshop.org
and
Malaprop's Bookstore
in beautiful Asheville, NC. I will earn a small commission at no additional cost to you if you purchase merchandise through links on my site. Read more on my
affiliate page
.
---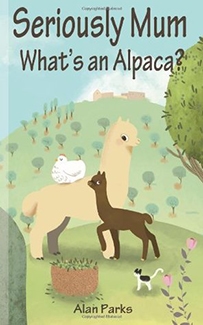 Title: Seriously Mum, What's an Alpaca? – An Adventure in the Frying Pan of Spain
Author: Alan Parks
Genre: Memoir, Travel
Audience: Adult
Format: E-book
Leaving England and moving to Spain to set up an alpaca breeding farm was never going to be easy…

'Seriously Mum, What's an Alpaca?' is the frank and charming story of a brave couple who risk everything to move to Spain to follow their dream.
My Review:
When I have daydreams about packing up and moving to a new country, Spain is always the one that comes to mind. We visited in 2010 and just loved it. We felt welcome everywhere we went, the people seemed happy, and it just fit. Plus, my husband's bilingual. At least one of us could speak the language.
When I saw this as a free nook book, I had to download it. Here is a couple who did exactly what I would never be brave enough to do. And they aren't just moving to the city, which would probably be easier, but they're completely changing gears and buying a farm to breed alpacas. I'm not clear what the author's career was in England, but his wife was a dance teacher. Kudos to them!
I enjoyed the book well enough–it was cute–but I just felt that it needed to be edited a bit more. It is presented as a finished book, but it felt like pages from a journal. It was a bit disjointed with the flow being more along the lines of, "We did this, then we did that, then we did this other thing," with very little transition or filler.
And they have the worst luck with the alpacas! He kept saying that alpacas are supposed to be easy but I have to say, my grandparents and now my uncles have a small family farm with a few head of cattle. They have never had any kind of trouble like what I read about in here! I felt terrible for Alan and Lorna and the alpacas. They just had terrible luck.
Being so isolated out in the country, there's not a whole lot of commentary about how different things are. Well, there is, I just wanted more. Alan and Lorna are pretty self-sufficient with their farm and their animals, so it's not like they're making daily trips to the market or getting completely submersed in the culture. At least that's not what I took away from the book.
If you're looking for a cute enough read about some really cute animals and their brave owners, do go ahead and give this one a try. I personally just wanted a bit more depth and polish to the story.
Similar Books:
If you liked Seriously Mum, What's an Alpaca? – An Adventure in the Frying Pan of Spain, you might also like my reviews of
Purchase:
Buy Seriously Mum, What's an Alpaca? – An Adventure in the Frying Pan of Spain from Malaprop's Bookstore in Asheville, NC.
Reading Challenges: