---
I have an affiliate relationship with
Bookshop.org
and
Malaprop's Bookstore
in beautiful Asheville, NC. I will earn a small commission at no additional cost to you if you purchase merchandise through links on my site. Read more on my
affiliate page
.
---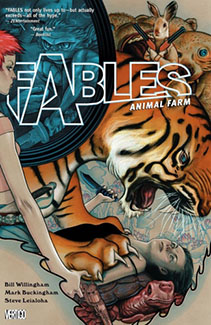 Title: Fables: Animal Farm
Author: Bill Willingham
Illustrator: Mark Buckingham
Series: Fables #2
Genre: Fantasy, Fairy Tale, Graphic Novel
Audience: Adult
Format: Paperback
Ever since they were driven from their homelands by the Adversary, the non-human Fables have been living on the Farm—a vast property in upstate New York that keeps them hidden from the prying eyes of the mundane world. But now, after hundreds of years of isolation, the Farm is seething with revolution, fanned by the inflammatory rhetoric of Goldilocks and the Three Little Pigs. And when Snow White and her sister Rose Red stumble upon their plan to liberate the Homelands, the commissars of the Farm are ready to silence them—by any means necessary!

Collecting the second story arc of creator and writer Bill Willingham's acclaimed series: Fables, Animal Farm features the stunning artwork of penciller Mark Buckingham and inker Steve Leialoha, and includes a special sketchbook section of preliminary artwork from Willingham, Buckingham, and cover artist James Jean.
My Review:
Eh. Three years have gone by since I read this and I just got around to reading Volume 3. I remember that I do like this world and concept a lot, and I enjoy the artwork, but I did not like this retelling of Animal Farm. I somehow missed the classic novel in school and that's an oversight I've never felt the slightest need to correct. I've picked up enough about it over the years to have a good idea what happens and it's not my cup of tea. The same goes for this graphic novel. In retrospect, I am glad that I continued with the series, and I do feel like you should read this volume before reading the others, but this was a very weak entry for me. As others have told me, it does get better.
Similar Books:
If you liked Fables: Animal Farm, you might also like my reviews of
Purchase:
Buy Fables: Animal Farm from Malaprop's Bookstore in Asheville, NC.
I have an affiliate relationship with Malaprop's Bookstore/Cafe in beautiful Asheville, NC. I will earn a small commission at no additional cost to you if you purchase merchandise through links on my site.