---
I have an affiliate relationship with
Bookshop.org
and
Malaprop's Bookstore
in beautiful Asheville, NC. I will earn a small commission at no additional cost to you if you purchase merchandise through links on my site. Read more on my
affiliate page
.
---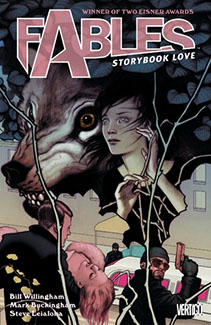 Title: Storybook Love
Author: Bill Willingham
Illustrator: Mark Buckingham
Series: Fables #3
Genre: Fantasy, Graphic Novel, Fairy Tale
Audience: Adult
Format: Paperback
My Synopsis:
The story of the Fable refugees continues, this time with a focus on the many forms of storybook love.
My Review:
I was much happier with this volume than with the previous one. I'm on firmer footing with love stories, however fractured they may be, than with a retelling of Animal Farm.
There's not really a big plot arc here–it's more like a collection of short stories than a novel, but I enjoyed them. I particularly liked the charming tale of the marooned Lilliputian army as well as Snow White and Bigby's continuing…denials. I'm from the Southern Appalachians, a region well-known for our "Jack Tales," so seeing one of those represented here was also a bonus. There was also a death I found to be shocking. I'd assumed this person would be around for a long time!
I still enjoy the quality of the artwork and appreciate the scope. From a typical, happily-ever-after quest tale to a gory blood bath, it's all represented well here.
I don't have much else to write except that I'll be picking the next one up sooner rather than later. If, like me, you were a little turned off by Volume 2, don't hesitate to pick up Volume 3. You'll be back in fairy tale territory.
Similar Books:
If you liked Fables: Storybook Love, you might also like my reviews of
Purchase:
Buy Fables: Storybook Love from Malaprop's Bookstore in Asheville, NC.
I have an affiliate relationship with Malaprop's Bookstore/Cafe in beautiful Asheville, NC. I will earn a small commission at no additional cost to you if you purchase merchandise through links on my site.