---
I have an affiliate relationship with
Bookshop.org
and
Malaprop's Bookstore
in beautiful Asheville, NC. I will earn a small commission at no additional cost to you if you purchase merchandise through links on my site. Read more on my
affiliate page
.
---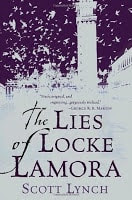 The Lies of Locke Lamora was a hugely fun tale of a group of con artists called The Gentlemen Bastards and their lives in Camorr, a fantasy version of Venice.
I'm going to say right out that I actually struggled a little with this, and that says more about my attention span at the moment than it does about the book. Locke and his group of friends are fantastically funny and amazingly great at what they do. Some of their antics just left me in admiration at the sheer *ahem* balls of what they pull off. I would read and think, "Oh, no. They aren't. Oh, yes. They are. I can't believe these guys!" And then I would frequently shake my head in admiration or burst into (mostly) silent gales of laughter. And then I would tell my husband, "You won't believe what The Gentlemen Bastards just did!" like they were real people I was talking about. Well, take out the "Gentlemen" part and he probably would have thought I was talking about a couple of people at work. 🙂 But anyway… The witty dialog was actually witty and layered and pointed in so many ways that I still wouldn't swear that I got it all, and I was supposed to know what was going on! Again–that's me, not the book.
But it wasn't all lighthearted scams and tricks, and there were times that I was so upset with the direction that the story took, I could have thrown the book against the wall. And that's all I'll say about that.
I feel like I have to throw this in here. If you're offended by language, skip this one. I didn't think it was that bad, but I'm fairly tolerant of that kind of thing. There were parts that were pretty violent too.
But for a rip-roaring tale of adventure, thievery, more double-crosses than you can keep up with, smartass characters that you actually end up caring about, and brilliantly engineered scams, go ahead and pick this up. Just make sure that your attention span is up for the challenge.
Review written October 2, 2009