---
I have an affiliate relationship with
Bookshop.org
and
Malaprop's Bookstore
in beautiful Asheville, NC. I will earn a small commission at no additional cost to you if you purchase merchandise through links on my site. Read more on my
affiliate page
.
---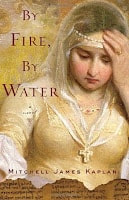 It's the early 1490s in Spain and world-changing events are happening. The New Inquisition is getting established; Spain is trying to take Granada back from the Moors; and, well, we all know about Christopher Columbus in 1492. Huge stuff. By Fire, By Water focuses on one man's role through all this. Luis de Santángel is an important man in Ferdinand and Isabella's court. He's basically the money man. He's also a converso, a Christian whose ancestors were Jewish but converted, usually under intense pressure. He's curious about his heritage, so he starts asking questions. Spain under the New Inquisition, led by Torquemada, is no place to ask questions about anything. Santángel soon finds himself and his family under suspicion. Concurrently, Judith Migdal, a Jew living in Granada, is fighting for her survival. She finds herself trying to provide for some extended family alone. Life with the Muslims in Granada might not be perfect, but at least she's free to worship as she pleases.
I don't know exactly how to say that I liked reading about this period in history. It infuriated me sometimes, but it felt important to know. I'd heard about the Spanish Inquisition, of course, but I hadn't really thought about who might have been targeted. I was appalled at the ultimate action the authorities took against the Jewish people. I read Poison: A Novel of the Renaissance at the same time that I read this book, completely unintentionally, and the two books fit well together. By Fire, By Water gave me the background and Poison showed me how the Jews fared afterward. Needless to say, it wasn't that well.
I never quite connected to Santángel. I think it would be safe to say that I'm a coward. I would have kept my mouth shut and been at the Church all the time. That wouldn't have been any guarantee of safety in that suspicious, greedy climate, but it would have been better than running around asking questions about your Jewish roots. I just didn't quite get his motivation. He's obviously an intelligent man, he knows what's going on with the Inquisition, so why take the chance? Perhaps if the story had been written from his point of view, I would have understood better. I occasionally have this complaint about third person point of view, so this could just be me.
I did like Judith a lot. She's taking care of her nephew and her sister-in-law's father. How many people would take on the old man? But she does her best for them both. She doesn't have many options as a woman at this time, but she does what she needs to in order to survive. She becomes a silversmith. She establishes her own trade, and she learns to read. I was very impressed with her. As her fortunes rise and fall, she continues to adjust her plans accordingly. She's a survivor who manages to stay pretty true to herself. She's a character I would like to know in real life.
I feel like I learned some eye-opening bits of history. I recommend this to anyone curious about this period of time. The author calls it cataclysmic and I would have to agree. These periods of violence and hatred are never easy to read about, but it is important that we remember them so we never travel those paths again.
Thanks to the author for sending me a copy for review.