---
I have an affiliate relationship with
Bookshop.org
and
Malaprop's Bookstore
in beautiful Asheville, NC. I will earn a small commission at no additional cost to you if you purchase merchandise through links on my site. Read more on my
affiliate page
.
---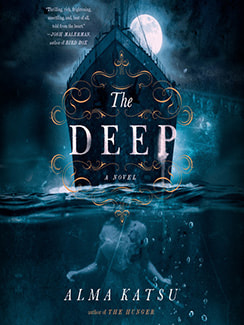 Title: The Deep
Author: Alma Katsu
Narrator: Jane Collingwood
Genre: Paranormal, Historical Fantasy, Gothic
Audience: Adult/Young Adult
Format: Audiobook
My Synopsis:
Annie Hebley is a good Irish girl who accepts a job working as a stewardess in the first-class rooms aboard the Titanic. When passengers begin boarding the ship in Southampton, she's oddly drawn to the Fletcher family–Mark, Caroline, and baby Ondine. Strange things begin happening aboard ship and passengers begin to spread rumors of thieves stealing jewelry from state rooms as well as rumors of a spirit haunting the brand-new vessel.
Four years later, Annie leaves the mental institution where she's been living ever since the sinking. She's not exactly a patient and not exactly staff. She's essentially a boarder. Her friend Violet, who also survived the Titanic, has written and begged her to come work as a World War I nurse aboard the Titanic's sister ship, the Brittanic. The doctor at the asylum urges Annie to go live a normal life so she does. But memories start racing back to her as soon as she boards the Brittanic. What exactly happened all those years ago aboard the Titanic?
My Review:
I liked this well enough. The juxtaposition of the Titanic and the paranormal elements was done well. I was never entirely sure what was going on, although I did have all the pieces pretty early in the story. It is refreshing when I can't quite put everything together.
My biggest quibble is that the story could have been tightened up a lot. There are so many characters! Annie is the main character but there are also chapters written from the points of view of Madeleine Astor, Madeleine's servant boy, Mark Fletcher, Caroline Fletcher, W. T. Stead, Lady Duff-Gordon, and Dai Bowen on the Titanic and Charlie Epping aboard the Brittanic. There may have been more. I do see how most of these contributed to the larger work, but I honestly don't know what Madeleine, Dai, Lady Duff-Gordon, and Charlie added. They each had their own tiny story that didn't contribute much of value to the main plot. It made the book feel a bit rambling to me.
I quickly realized that Annie is an unreliable narrator. I'm not quite sure how I feel about those. Done well, they lead to some huge, surprising plot twists. Otherwise, I think they irritate me. Annie was a bit more of the latter. She came across as one of those girls who falls in love with every male she meets. There are reasons, I'll grant her that. But those girls have always annoyed me, whether in fiction or in real life. Other readers will tolerate that kind of thing better than I do.
The ending? It came across as bizarre and overly melodramatic. Annie's unreliability did make it a bit surprising. I don't want to say more. I can't think of a better way to meld this story with actual history though.
Jane Collingwood did an excellent job with the narration; I'll seek out other books she reads. She had a wide gamut of accents to tackle–from Irish to English and American to Welsh with first- and third-class variants as well–and she handled them admirably.
If you're looking for a spooky, atmospheric read, I do recommend this despite some problems I personally had with the book. Readers who enjoy all things Titanic should especially like it.
Similar Books:
If you liked The Deep, you might also like my reviews of
Purchase:
Buy The Deep from Malaprop's Bookstore in Asheville, NC.
I have an affiliate relationship with Malaprop's Bookstore/Cafe in beautiful Asheville, NC. I will earn a small commission at no additional cost to you if you purchase merchandise through links on my site.