---
I have an affiliate relationship with
Bookshop.org
and
Malaprop's Bookstore
in beautiful Asheville, NC. I will earn a small commission at no additional cost to you if you purchase merchandise through links on my site. Read more on my
affiliate page
.
---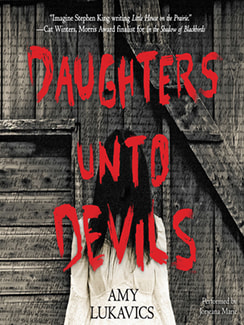 Title: Daughters Unto Devils
Author: Amy Lukavics
Narrator: Jorjeana Marie
Genre: Horror, Historical Fantasy
Audience: Young Adult
Format: Audiobook
My Synopsis:
Amanda Verner has been meeting the postboy in the woods behind her family's cabin. After the events of last winter, she thinks she's going to hell anyway, so she might as well enjoy the sins of the flesh while she can. She realizes she's pregnant at about the same time that her Pa announces they're moving off the mountain and onto the prairie. Farmers are predicting an even worse winter this year and Pa hasn't forgotten about last winter either. He knows his family of seven needs more room to breathe than the tiny cabin they currently inhabit affords them. But it's too late in the year to build something bigger himself. Rumor has it that there are plenty of abandoned cabins for the taking down on the prairie. So the Verner family leaves the only home they've ever known.
But there aren't as many cabins available as rumor would have it. They pass one that appears occupied and finally settle on the next one they find, a home with plenty of room for the family. But when they open the door, the furniture inside has been destroyed and everything is covered in blood….
My Review:
Oh my goodness. This scared me to death! I got worried that I was going to have to put it aside. I gladly read most horror but one trope in particular seriously gives me nightmares and this book went there. I soldiered on though and holy cow, what a ride this was! I keep seeing it compared to a horror version of Little House on the Prairie so I started calling it The Little House on the Shining when I was telling my husband about it. That's pretty apt!
I don't want to say much more because half the thrill of the book was watching everything slowly unravel. What exactly did happen last winter? And what happened at the new cabin?
Jorjeana Marie's narration was suitably creepy for this book. I'm curious if I just felt that way because of the content or if she's that good at telling "spooky stories" as they say in the book. Either way, I can't imagine anyone else reading it, so she did a fantastic job.
I definitely recommend this for anyone looking for some pretty serious horror. I'll have to give my nerves a break for now, but I'll look for more of Amy Lukavics's work in the future.
Recommended by:
Similar Books:
If you liked Daughters Unto Devils, you might also like my reviews of
Purchase:
Buy Daughters Unto Devils from Malaprop's Bookstore in Asheville, NC.
I have an affiliate relationship with Malaprop's Bookstore/Cafe in beautiful Asheville, NC. I will earn a small commission at no additional cost to you if you purchase merchandise through links on my site.