---
I have an affiliate relationship with
Bookshop.org
and
Malaprop's Bookstore
in beautiful Asheville, NC. I will earn a small commission at no additional cost to you if you purchase merchandise through links on my site. Read more on my
affiliate page
.
---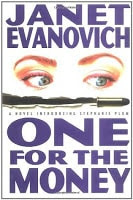 Stephanie Plum has just gotten laid off from her job as a lingerie buyer for a company that turned out to be owned by the mob in New Jersey. Her Miata has just been repossessed, she's sold everything of value, and her refrigerator is empty. Out of desperation, she goes to see her cousin Vinnie, a bail bondsman, about a filing job. That's just been filled, but the secretary lets her know that there's an opening for a bounty hunter, and the money's good. Stephanie blackmails her way into taking a case that will pay out $10,000 if she can bring the guy in. It turns out the fugitive is someone she has a long history with who appears to be a cop gone bad. He's been arrested for cold-blooded murder. Of course, Stephanie is unbelievably unqualified for this job, but a mixture of desperation, pride, and stubborness take her a long way.
This was a quick, fun read, but there was still plenty of murder and mayhem for most mystery/thriller readers.
This was actually pretty funny. I don't think I ever laughed out loud, but I probably giggled a few times. I had expected it to be a little funnier and less violent from what someone had told me about it, but this was still a good book. One thing that did irritate me was that the author pretty much gave driving directions to every place Stephanie went in the book. That might make it more real to the people from Trenton, NJ, but to me it was just distracting fluff for me to skip over.
The characters were what really made the book. You have to like Stephanie. She comes across as just an average woman who's gotten in over her head, but she doesn't let that stop her. The dirtbag characters were really dirtbags. Some of the stuff they did made me want to go take a shower. And Joe was a hottie. What girl doesn't like a good guy with a little bit of bad in him? Or is he a bad boy with a little bit of good in him? Either way, he's sexy. I hope he shows up in other books.
So if you like your mysteries with some humor and you don't mind some blood along the way, you'll like this one.